Vintage RV—1970's (?) Airstream travel trailer
These distinctive, shiny silver classic trailers have a dedicated, almost cult-like following.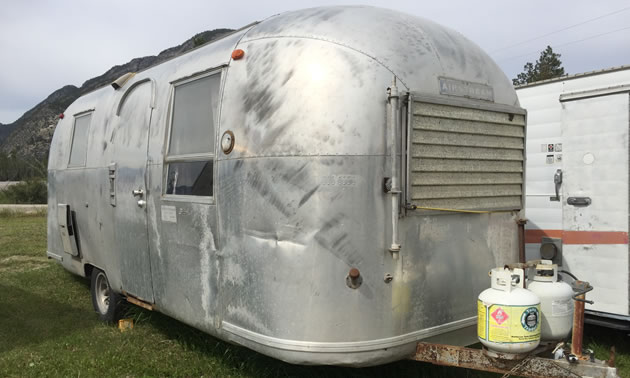 There's a little RV campground/used RV dealer in the tiny hamlet of Canal Flats, B.C. – situated in the Columbia Valley, just south of Invermere and Fairmont Hot Springs.
I recently spied several vintage Airstream trailers parked out front at this lot, ready to be sold. So for the next two postings we'll be featuring these two units. The first of the two looked a little bit more "well-used." However, it also looked like it was ready for refurbishing and would still give some camper many years of service.
What can you say about vintage Airstream trailers that hasn't already been said? These distinctive, shiny silver, classic trailers have a dedicated, almost cult-like following. This holds true whether we are talking about a brand new Airstream or a vintage model, like the one we see here.
According to the company's website, "In 1929, Wally Byam built the world's first Airstream trailer. It started out as a tent contraption that he built on a Model T chassis, but it wasn't a lot of fun in the rain (and Wally's first wife Marion wasn't a fan). So he replaced the tent with a teardrop-shaped permanent shelter – and added a stove and ice chest, too. It was easy to tow and caught the eye of other travelers, so much so that enough people asked Wally about it for him to decide it might be "a pretty good business to get into."
Airstream also hosts one of the world's biggest RV clubs, named after its founder Wally Byam. Here's what their website states about the club:
"In 2005, the Wally Byam Caravan Club International celebrated its 50th anniversary. From the first Central American caravan Wally led to his adventures across Europe with Neil Vanderbilt, from tours of the United States to trips to Africa and China, the WBCCI has spent half a century helping Airstreamers meet each other, form lasting bonds and memories, and travel the world safely and enjoyably."
Do you have a vintage Airstream story and/or photos? Share your classic RV restorations, or tell us your favourite story about a cool vintage unit you've encountered by filling out our Classic Vintage RV form.