Meet Free Range, the restored 1971 Boler
This once forlorn Boler has been brought back to life by an enthusiastic Alberta couple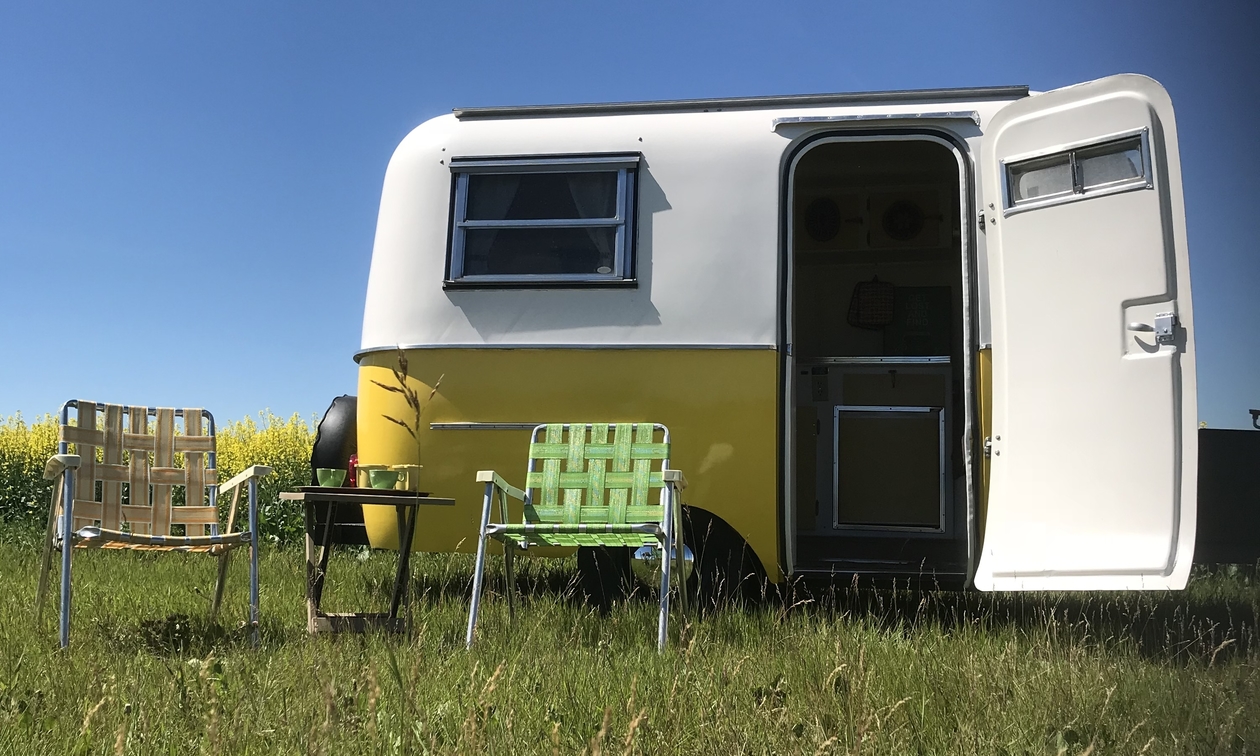 Menno Sietzema and his wife, Marjolein, were camping on a sublime hot day in August of 2017. Their chosen destination was Syringa Provincial Park (located near Castlegar, British Columbia).
"As we were sitting in the shade, there were two cute little Bolers across from us," said Sietzema. "I had seen them around and never thought much of it - just a small, round, puny little fibreglass camper. But as we were sitting there staring at them both, my wife and I decided they were kind of cute, and thought what fun it would be to get one of those little campers."
After a few days, the couple ventured back to their home in Red Deer, Alberta. Sietzema went online to do some research on Bolers, but found the asking price to be a little steep - even for units in need of serious TLC. He posted a query in an outdoor recreation forum, asking if anyone had one of these coveted RVs for sale at a reasonable cost.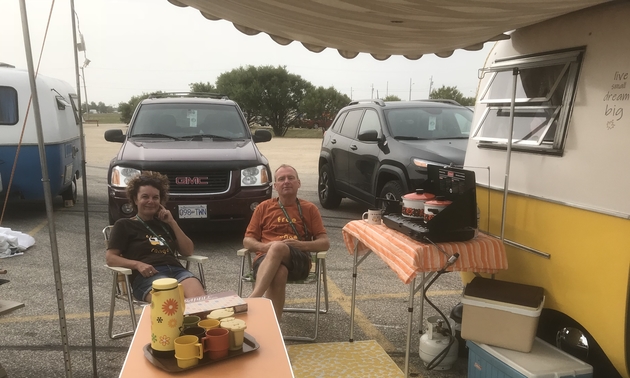 "Low and behold, a fellow from Camrose contacted me and said he had one in the pasture," said Sietzema, "but it needed a little work as the cows used to rub against it, the bees had set up shop in it and the mice also took refuge."
Photos were sent - the unit needed serious work. Windows and wheels were missing - but the couple could see its potential.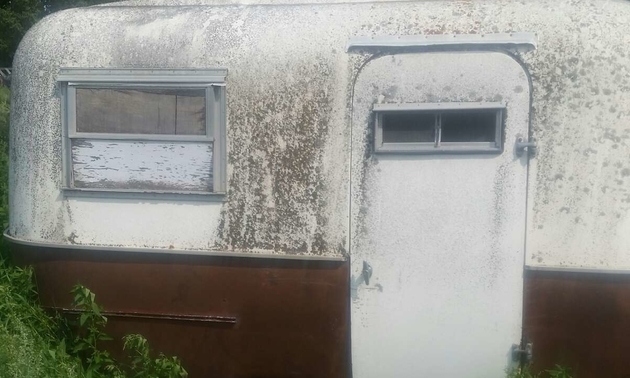 "We were super excited," Sietzema explained, "(we) started to look into how to rebuild it - what can go wrong, fibreglass will never rot."
They made the journey to Camrose with a flat deck trailer and found the neglected Boler sitting unloved in the pasture. For a price tag of $300, a deal was made and the Sietzemas were the proud owners of a 1971 Boler. With the help of some old snowmobile skis, they were able to winch the unit onto the trailer even without wheels.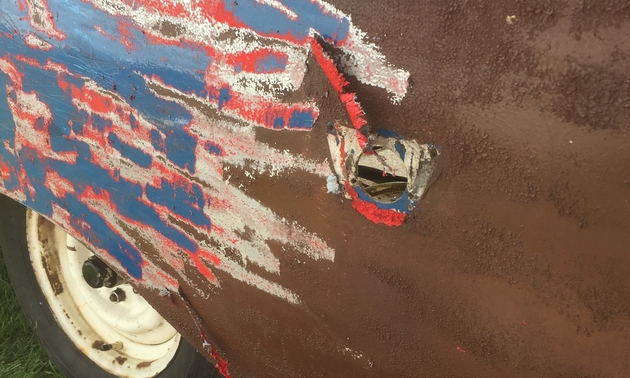 They brought the Boler back to Red Deer, and washed the moss and lichen off its exterior before stripping the inside.
"After she had her scrub-down the sanding got started right away, but that was not an easy task," said Sietzema. "Her colour was brown and by sanding she was red underneath the brown - then silver underneath the red. Under her silver coat was the original blue gelcoat. In between sanding I also removed the body off the frame as the original frame was cracked and a new hitch sort of backyard welded on."
The couple hired a welder to build a new frame based on the old one, and a new axle was created by Dexter Axles. After a few weeks the frame was done and the body sanded - the RV was ready to be brought into the garage for restoration over the winter.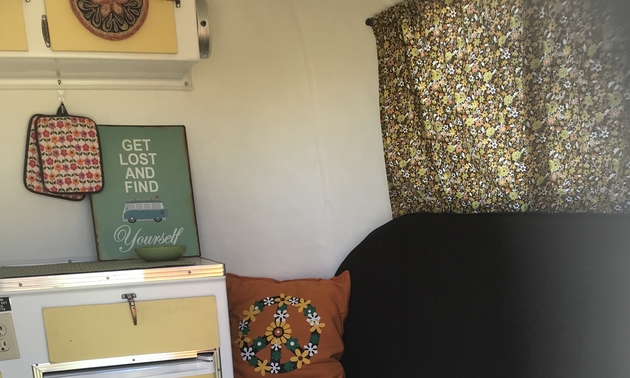 "As we were working on the Boler," said Sietzema, "my wife came into the garage and said, 'Guess what, we have to get this thing ready - because there is a 50th anniversary in Winnipeg in August of 2018.' Well, we got more excited and had to think of a theme. We were both born in the late '60s and the '70s is what brought back lots of memories, so we went with the '70s theme. Flowery curtains, lots of orange, brown and yellow - slowly everything started to come together."
The windows were replaced, aluminum frames polished and window frames sealed with butyl tape. There were a few fibreglass repairs needed, and the exterior got a fresh new paint job (sunny yellow with a white top). They used Interlux marine paint using the roll and tip method (paint is rolled on with a good quality foam roller, and then smeared out with the tip of a paint brush immediately after).
"After about 10 months of rebuilding the Boler, she needed to have a name," said Sietzema. "Since she is yellow and white, and looks like an egg, we decided to call her Free Range. She will be travelling freely across the country."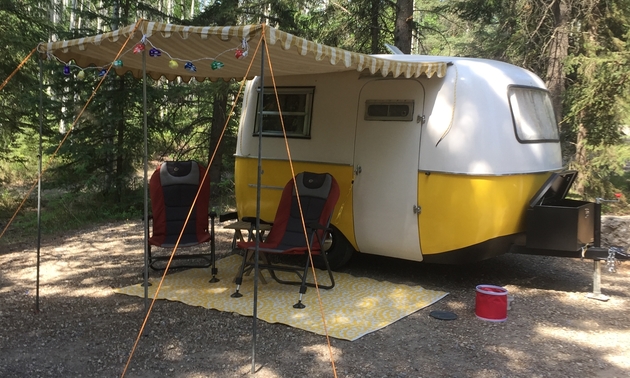 They tested their newly restored Boler a few times locally before the big Winnipeg adventure. It took some getting used to after having campers with more space, kitchens and bathrooms in the past - but they adapted and enjoyed their travels.
The Winnipeg trip was a huge success, and Free Range didn't disappoint.
"In the meantime we also bought a 1993, 21-foot Airstream, which also needed some work as the interior was super outdated," said Sietzema. "The fight is always about whether to take the Boler or Silver Annie, so the Boler gets used on warm spring, summer and fall days. Silver Annie gets used on the cooler days as it has a furnace, bathroom and fridge."
Share your classic RV restorations, or tell us your favourite story about a cool vintage unit you've encountered by filling out our Classic Vintage RV form.