Vintage RV: 1970's Bendix Lifetime Motorhome
Bendix Lifetime Motorhomes only lasted a few seasons and evidently the division was merged with or purchased by Winnebago.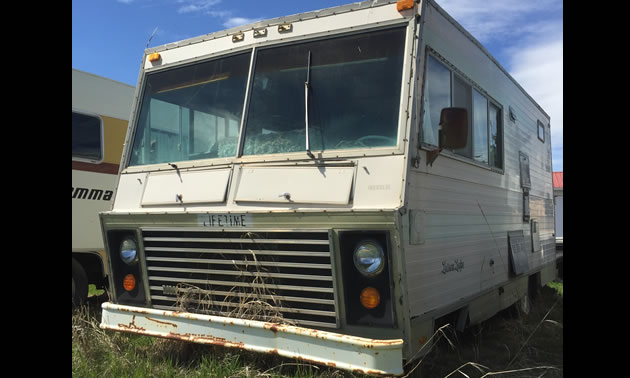 This week's Vintage RV unit definitely falls into the "Roadside Relic" category. I may stand to be corrected, but I believe this is an early 1970's Bendix Lifetime motorhome. Relatively rare, but they come with a storied past. As you can see from this model they are often found abandoned on a grassy parking lot.
According to one vintage RV chat site the "Lifetime motorhome was built by the Lifetime Corporation. Lifetime also helped build the 1966 Winnebago Lifetime Premier, Winnebago's first motorhome. That partnership was only in 1966. After that, Lifetime made their own motorhomes up till the mid 70's. By that time they were called Bendix Lifetime."
Another enthusiast commented, "Lifetime helped Winnebago build their first motorhome in 1966. Before and after that time they also built motorhomes. Later becoming Bendix Lifetime."
Bendix was a major manufacturer, producing everything from washing machines to jet planes. The company was based in Atlanta, Georgia. Their motorhomes were produced by the Lifetime Recreational Vehicle Division of the manufacturing behemoth.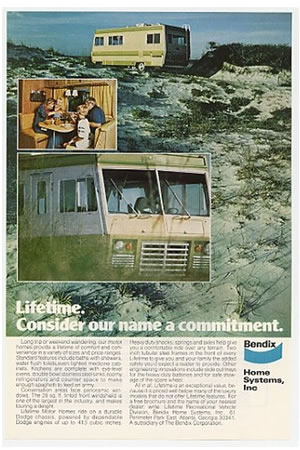 One of their corporate ads headlined, "We take our automotive, aviation and electronics business seriously…but that doesn't mean we can't put some fun in your life."
The ad copy read: "Fun like a Lifetime motorhome. Or an Aristocrat or Corsair travel trailer that can turn the family car into an escape mechanism to high adventure. These exciting products plus a board line of mobile homes are designed and built by Bendix Home Systems, Inc. They're keeping 36 Bendix plants humming throughout North America and Europe. We are still problem solvers for the automotive, aviation and electronics industries, but we're growing into new businesses, too. Like recreational vehicles and mobile homes."
Bendix Lifetime Motorhomes only lasted a few seasons and evidently the division was merged with or purchased by Winnebago.
Bendix Corporation, now partly Bosch Corporation and Honeywell Aviation, began with Vincent Bendix from Moline, Illinois. He invented an automotive electric starting motor drive, called the "Bendix Drive" in 1914 and became a millionaire. The Bendix Drive and the 4-wheel brake system he invented were the basis for the formation of a new company in 1924. The name became Bendix Aviation in 1929 when production began to include aviation products. In 1960, Bendix Aviation changed its name to Bendix Corporation to include its other activities, such as automobiles, space, missiles, and energy controls – not to forget a brief foray into motorhomes.
Share your classic RV restorations, or tell us your favourite story about a cool vintage unit you've encountered by filling out our Classic Vintage RV form.