The "Best of" Vintage RV: 2018
So far in 2018, we have had lots of positive feedback on our continuing series showcasing vintage classic motorhomes and travel trailers.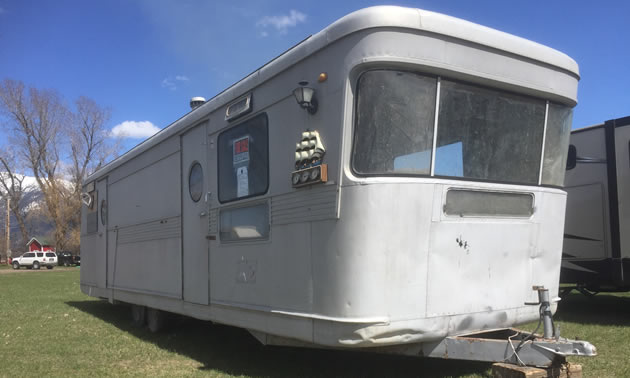 So far in 2018 we have had lots of positive feedback on our continuing series showcasing vintage and classic motorhomes and travel trailers. We call the popular series Vintage RV. We are confident this reflects both the nostalgia and passion campers/RVers continue to feel about these vintage units from a bygone era.
We are pleased to re-post the "most liked" of the vintage motorhomes and trailers we have posted during the first 6 months of 2018 – based on the number of Facebook likes each posting received.
With 150 Facebook likes, this article takes the number five spot: Vintage RV: 1955 Spartan Mansion — "The Cadillac of Travel Trailers"
When I tripped across this vintage trailer for sale in Montana, I didn't anticipate it having such an interesting and storied past. A spinoff of the famed Spartan Aircraft Company which counted the likes of Howard Hughes and King Ghazi as customers – and was owned by business tycoon J. Paul Getty -- this trailer line comes from quite high-brow pedigree. Evidently, remnants of the company still exist in the insurance and financial fields.
This particular model has been ravished by weather and time, but it's ready for an ambitious renovation. It's a 1955 Spartan Mansion Trailer, with new tires, bearings are good and will need work (a bit of an understatement) but has good bones – or so stated the sale flyer posted on the windows. All for $4,500.
According to a Wikipedia post: The Spartan Aircraft Company was an American aircraft manufacturing company, headquartered on Sheridan Avenue near the Tulsa Municipal Airport in Tulsa, Oklahoma. The company was known for the luxurious Spartan Executive aircraft produced in the late 1930s and early 1940s — made prominent by owners such as Howard Hughes and King Ghazi of Iraq. After the ebb of personal aviation and the increased competition in the aircraft business following World War II, owner J. Paul Getty and Spartan upper-management redirected production to focus on the demand for housing and leisure. Using the same internally braced and space-saving monocoque design of the Spartan Executive 7W, the company produced its first all-metal travel trailer. The company followed previous design strategies, offering lavish and full-featured trailers. Through the 1940s and 1950s, Spartan produced what some referred to as the "Cadillac" of trailers, commanding prices higher than $4000. At the time, with an average two-bedroom home in the United States costing about $8000, Spartan trailers were a discretionary purchase for the wealthy.
Spartan produced over 40,000 trailer homes before ending production in 1961. After 33 years of manufacturing aircraft and trailers, the Spartan Aircraft Company closed its manufacturing facilities and entered the insurance and financial business under the name Minnehoma Insurance Co. The Spartan name was sold to the Spartan School of Aeronautics, which operates today under the name Spartan College of Aeronautics and Technology.
Share your classic RV restorations, or tell us your favourite story about a cool vintage unit you've encountered by filling out our Classic Vintage RV form.