I Spy'd a Vintage Motorhome: The Luxurious Vogue Motorhome
Back in the 1980's, the Vogue was one of the most sought-after motorhomes to own.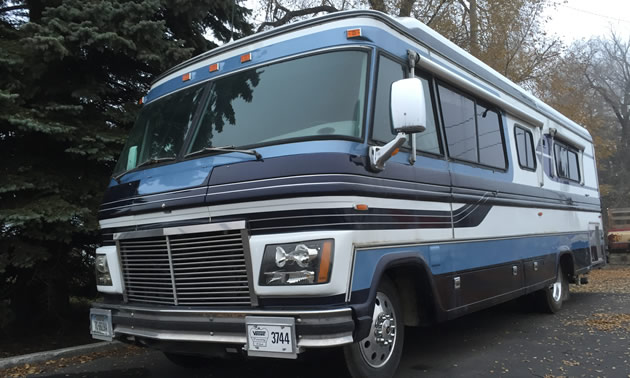 The Vogue motorhome is certainly one of the most unique RV units I've come across in a while. I saw this unit sitting on a used auto dealers lot in Kalispell, Montana. It looked like it was in showroom condition and sparkled even on a foggy fall day.
Evidently, "the Vogue motorhome history began when an industry visionary named Andy Alburn, embarked on making a high end coach that would put Winnebago to shame." said an RV industry blogger.
Andy Alburn was a Winnebago motorhome dealer at the time—possibly a somewhat disgruntled dealer, because when Winnebago got wind of Alburn's plans to build a Vogue motorhome they stripped of his franchise!
The new company was located at Sun Valley on Tuxford Street in Los Angeles, California and was started in 1974—Vogue motorhomes were produced until 1998.
"A lot of these coaches went to movie stars," a person in the know stated. "Some were purchased and went back to the plant for a complete makeover."
"They were the most luxurious hand-made motorhomes," is a statement often heard when talking about the Vogue. "In fact, each was custom built. Rarely do you find two Vogues exactly alike. While Winnebago's may have caught the attention of the nation, Vogue caught the imagination of those who wanted the best that money could buy in a class A motor home," claimed the blogger.
The blogger also said that, "Vogue was purchased and moved to Oklahoma. The company fell on hard times. Enter Harvey Mitchell. He bought a motorhome and after a family vacation loved it so much he went into the business. He soon became the largest distributor of Wanderlodge, made by the bus company, Blue Bird. Mitchell thought Blue Bird was a quality coach which competed well with Vogue, according to my sources. When Mitchell took over the reins at Vogue in 1990, he wanted to modernize and improve the quality finish of these beautiful coaches. He turned beautiful into opulent. These were luxury condos rolling down the by-ways of America!"
Despite a reputation for the highest in RV design and amenity features, "Mitchell's time at Vogue was relatively short and the company was gobbled up by another luxury bus manufacturer in 1998 named Featherlite. Presuming the name "Vogue" was a little out of vogue for modern thinking, the name was dropped in favour of "Vantare". The decision may have been a bit rash, as the company still uses the model as a "Vantare Vogue""
Here's a bit of a summary of the Vogue's history: It was started in 1974 in Los Angeles, CA. by a former Winnebago dealer named Andy Alburn. At some point, Vogue was sold and manufacturing was moved to Oklahoma. The Vogue line was later acquired by Harvey Mitchell (Mitchell Motor Coach Manufacturing Company, Inc.) in 1990 and later sold to Featherlite Coach in 1998. The Vogue units produced during Mitchell's ownership (1990-1998) are some of the most sought after and referred to as "Mitchell-Vogues."
Vogue coaches were built on the following chassis:

Chevrolet (Gas, Chevy 454 engine, P-30)
Gillig (diesel)
John Deere (Gas, Ford 460 engine)
Crown Bus chassis
Prevost Buses:
Mitchell Motor Coach started converting Prevost bus chassis under the Vogue brand starting in 1993 and ending in 1996.
Featherlite:
Featherlite Vogue 38, 40, and 45' units were only produced in 1999. These units were built on a custom chassis at the Pryor, Oklahoma plant.
History by Model

Vogue II - built from 1982 through 1987
Cosmopolitan - built from 1985 to 1987
Vogue III - built in 1988 and 1989
Prima Vista wide body - built from 1989 through 1996.
Vogue V - built from 1996 through 1999
Back in the 1980's the Vogue was one of the motorhomes to own. The Vogue motorhome sports a rich and colourful history, as do many RV manufacturing enterprises in the RV sector.
Sources: ViewsRV.com and other blog posts/internet sites and forums.