Best of Vintage RV 2019: #1 - 1982 24 foot Triple E Motorhome
Thanks to Andy Murray for sharing his story and photos of the 1982 Triple E motorhome.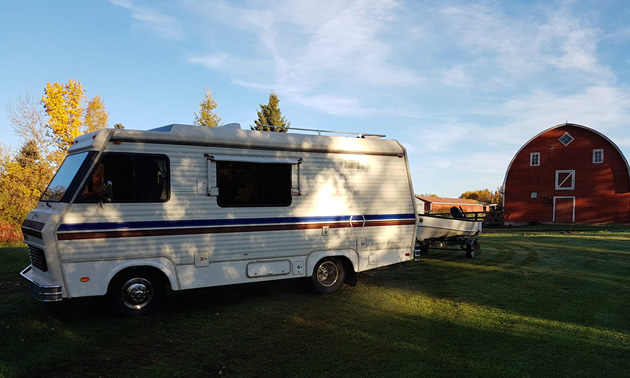 Over the next 10 weeks we will feature the Top 10 Vintage RV articles we have ran on the RVwest website over the last year. We have ranked them according to the number of "likes" each posting received on the RVwest Facebook page.
So enjoy our list of the Top 10 most popular Vintage RV postings from the last 12 months — in our annual feature called 2019 Best of Old Vintage RV.
The classic Triple E motorhome takes the top spot in our annual Top 10 Vintage RV articles of 2019 with 393 likes:
It always great to hear from vintage RV enthusiasts like Andy Murray. Andy sent us the classic photo of a classic unit – his 1982 Triple E motorhome. He said he thought it was a Cherokee model, but we don't think Triple E ever made such a unit. Anyway it's fully loaded with a 454 engine – so it's comfortable and has lots of power.
Andy travels alone and he says this little motorhome is the perfect size for himself and his fishing boat tagging along behind. Andy would like to add a solar panel on top – but then stated he is thinking of going to a Class B Van for better gas mileage.
Andy has owned this colourful little unit for over six years and he claims its not very stealthy for boondocking because everyone wants to take a peek at his vintage home on wheels.
It looks like a 24-foot unit, and here's a description of a similar unit: "Very unique open layout, sleeps 5, 2-way fridge (propane,110 volt). The 24' motorhome has a Chevy drivetrain with an aftermarket gear vendors overdrive transmission."
We're not sure if this describes Andy's model exactly, but you get the idea of the uniqueness of these older Triple E units.
Here's another Triple E owner, who sings the praise of the units: "Triple E is a company that cares and will do whatever it takes to please its customers. The quality that this coach has is hard to match. From cabinets, to furniture, construction material outside and in, handling and ride in my option would be very hard to match in this price range or even higher. Many motorhomes will try to dress a coach up to make it salable but take a good look top to bottom, inside and out and compare. Our furniture after now our 4th season down south still looks like new…We had a Class C Triple E for 8 years and it still looked new inside and out! Triple E is very much in business it has decided not to build Class A motor homes anymore or at least for the time being (Now builds Leisure Travel Vans). Quality comes with a price and in tough times the dollar speaks higher than long term value."
Thanks to Andy Murray for sharing his story and photos of the 1982 Triple E motorhome. Do you have vintage RV story – Triple E or not? Share it with us [email protected]