A vintage camper dream turned nightmare: One couple's story
by Whitney Bryen —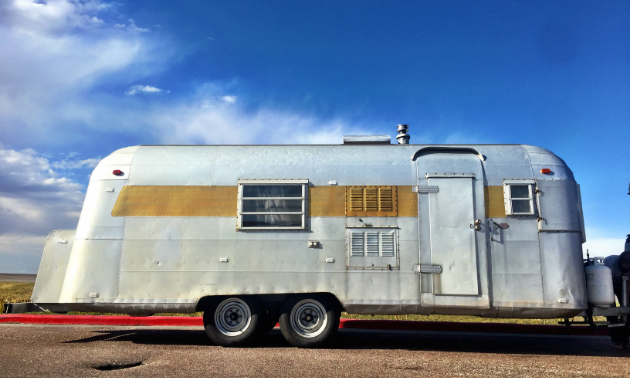 Beaming with pride, I smiled and gestured to the couple waving at us as they drove by on Highway 288 outside of Richmond, Virginia.
Obviously, they were admiring the vintage camper my husband and I had been toting across the United States for the past two weeks.
It wasn't until a second car approached honking and filled with flailing passengers that I glanced in the side mirror to see smoke billowing from our aluminum beauty.
The 48-year-old axle was bent and it had pushed out the cap covering one of our wheel bearings, which was now on fire. I watched in horror on the exit ramp as my husband used the fire extinguisher I was previously convinced was a waste of money to put out the flames.
We purchased our 1968 Silver Streak Sabre—affectionately referred to as the Tin Can—in April after deciding to take a year off and travel North America.
Weeks before my 30th birthday, we quit our jobs, sold our house and most of our belongings, and bought the 23-foot bumper pull.
Despite its age, the Tin Can seemed to be in great shape. Everything worked, according to the retired couple from whom we bought it. The water and electricity checked out upon first inspection and the price was right. All it needed now was a little TLC.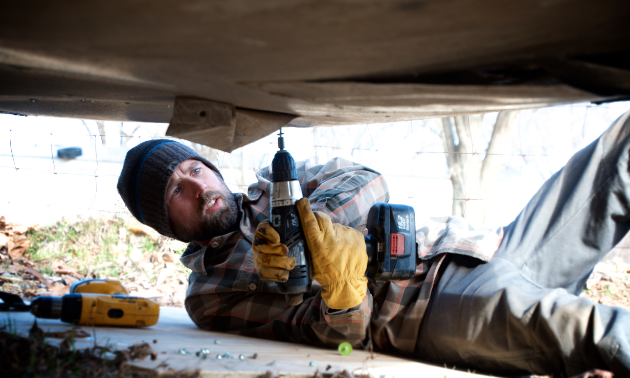 I was anxious to get my hands dirty and make our new tiny house feel like home.
The next two weeks were filled with excitement as we renovated the 150-square-foot interior. We replaced the twin beds with a two-person, sofa bed; hired a carpenter friend to build a custom closet and pantry to accommodate full-time living; put my aunt to work sewing new curtains and upholstery; covered the dark green walls and ceiling with white paint to brighten up the space; and replaced the flooring.
A lot of elbow grease went into the renovation, but as we pulled our shiny metal home onto the highway in May, kicking off our yearlong journey, I was sure it was worth it.
The Tin Can was cool and eye-catching and it represented the minimalist lifestyle for which we were striving. We didn't need fancy things or a big house. All we need is each other and the open road, or so we thought.
Day one ended in a Walmart parking lot in Little Rock, Arkansas, where we planned to spend our first night boondocking and relishing the freedom and comfort of our new home. Instead, we spent nearly an hour inside the store exchanging our dead battery and lighting up the camper with flashlights as we fumbled around searching for pajamas and transforming the couch into our bed.
Unfortunately, this was just the prelude to a slew of challenges we would face over the next five months.
Leaky walls left our clothes and sheets soaked anytime we drove through the rain. The stiff foam that covered our handmade sofa-bed left me sore and cranky. More dead batteries pointed to a phantom energy source that we never could track. We spent days repairing cracked plumbing and hundreds of dollars on parts and tools to get us by. We were tired and bickering.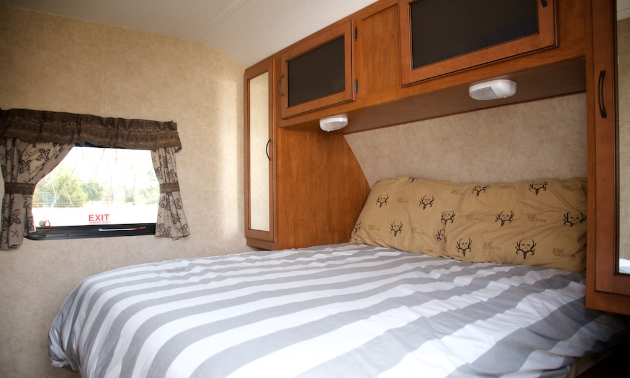 This is not how I imagined our year, but we pressed on—until Yellowstone.
We arrived at Yellowstone National Park in mid-September where we were scheduled to spend a month volunteering at a primitive campground near the south entrance in exchange for a free campsite. The day we arrived our heater stopped working, another battery died leaving us without lights or a water pump, and our refrigerator, which was running on propane, shot flames across the camper like a torch inches from my husband's face.
That was it. I was tired of pouring time and money into the camper instead of enjoying my year of travel. The Tin Can had taken enough away from me. I was done.
We spent the next month exploring Yellowstone and searching for a new home.
On October 20th, we bought a 2013 travel trailer with nearly 200 square feet of living space, a queen mattress and a working furnace.
We gave up character for comfort and it was worth it.
After three weeks in the new space, we are relieved. Camping is easier. Travelling is easier. Maintenance is cheaper. Overall, the stress has drastically decreased.
This is what I had imagined for my year-long adventure.
As for the Tin Can, we have found it a new home with a loving family who is willing to give the vintage gem the time it requires.
We still don't need fancy things or a big home, but as it turns out we do need heat, running water and a comfortable bed.