Vintage RV: 1975 Kit "Mark Regal" Travel Trailer/5th Wheel
Kit production concluded after the 2003 model year when they sold the company to Extreme RVs.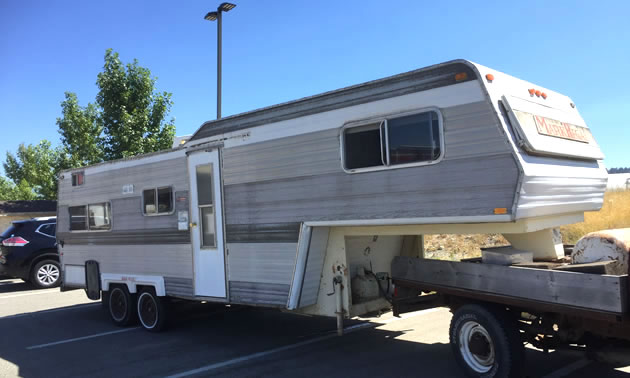 This week I came across an early Mark Regal fifth wheel sitting in a parking lot—this unit was definitely showing its age. This is an RV model I had never seen or heard about before. So with a little research on the Google machine, here's a bit of background on the Mark Regal fifth wheel evidently manufactured by a company called Kit Manufacturing Company.
According to NADA guide, this RV Company was founded in 1945 as the Kit Manufacturing Company. It grew quickly into a mobile home and recreational product builder based in Long Beach, California. While a majority of Kit sales were based on the park and mobile homes in early years, the company's travel trailers, fifth wheel, truck campers and Class C motorhomes eventually rose to become the leading endeavor for the business. Despite remaining competitive in the recreational vehicle industry through the 1990s, Kit production concluded after the 2003 model year when they sold the company to Extreme RVs.
Another source stated that, "An assembly plant at 710 W. Simplot Blvd. in Boise, Idaho, was used for more than 67 years to produce recreational vehicles. Kit Manufacturing made RVs there until Extreme RVs bought it in 2003. The plant closed in 2009 after the economy crashed."
RV Business published an article in 2002 about the company:
"Kit Manufacturing Co. has signed a nonbinding letter of intent to sell its RV business to Scott Thorpe, currently Kit's RV Division sales manager. The proposed deal calls for Thorpe to pay $1.75 million in cash and to assume the debt and liabilities of Kit's RV Division, which builds travel trailers and fifth-wheels. The debt and liabilities amount to around $5.5 million. The transaction would be financed by Progressive Investment Group of Fountain Valley, Calif. "The letter of intent contemplates execution of the definitive agreement by Nov. 8," according to the statement issued by Long Beach, Calif.-based Kit. "I am very excited to continue Kit's tradition as America's value leader in manufacturing RVs," Thorpe said. "Dan Pocapalia founded Kit 58 years ago and has built a strong track record of providing dealers and consumers with innovative RV products manufactured to the highest standards. I feel privileged to be able to continue in the Kit tradition." Kit ranked No. 18 in retail market share during the first seven months of this year in the combined travel-trailer/fifth-wheel category, according to Statistical Surveys Inc., an independent market research firm. Kit had a 0.7% retail market share in the travel-trailer/fifth-wheel category year-to-date through July 31. Kit's RV manufacturing plant is in Caldwell, Idaho, and it builds the Road Ranger, Companion, Millennium and Extreme brands. Meanwhile, Pocapalia said the sale of the RV division will allow Kit "to focus on its manufactured homes operations, which have produced positive EBITDA (earnings before interest, taxes, depreciation and amortization) for the company in each of the past six years."
Do you have anything to add to the Mark Regal/Kit Manufacturing story? Share your classic RV restorations, or tell us your favourite story about a cool vintage unit you've encountered by filling out our Classic Vintage RV form.