Tumbler Ridge is the waterfall capital of the north
Photo tips by Larry Erlendson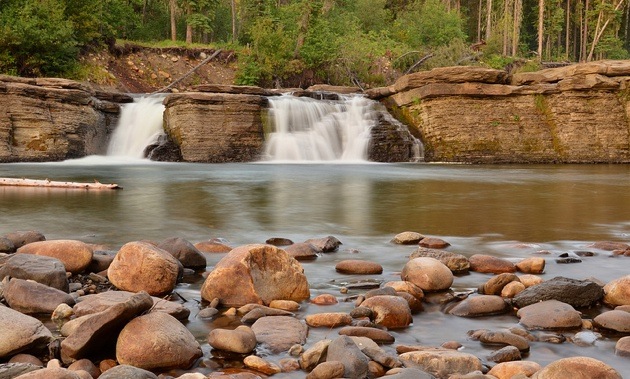 Photo op: Kinuseo Falls
A dramatic 60-metre vertical drop and glacier-fed waters make Kinuseo Falls on the Murray River the landscape highlight for visitors to the Tumbler Ridge area. For the more adventurous, Monkman Creek upstream of Kinuseo flows over a series of falls that can be accessed via longer trails, but Kinuseo Falls are easily accessible from a parking lot.
Directions: Take Highway 52 South (Boundary Road) out of town and after 12.7 kilometres turn right at the Quintette Mine turnoff. Drive 50 kilometres on the Murray Road to the Monkman Park entrance. The gravel road past the mine plant site can be rough at times, so give yourself lots of time and enjoy the scenery. Once inside Monkman Park, you are almost there; look for the Kinuseo Falls side road on your right.
A short walk from the parking lot leads to a viewing platform with views of the river upstream and downstream, or follow an unmarked trail down a steep ravine to the base of the falls—be sure footed, and proceed at your own risk.
The trailhead from the parking lot offers a short, narrow hike to an upper viewpoint with great photo opportunities. A bench marks the end of the maintained trail, with a spectacular side view of the falls and river downstream.
Photo tip: Hobby photographer Larry Erlendson recommends zooming in and out for a variety of landscape shots from the viewpoints.
"The viewpoint on the main trail is also custom made for a stitched panorama type shot if you like to try those," he said.
Kinuseo Falls are probably best photographed mid-morning, as most viewpoints will have you pointing towards the sun from noon until later in the afternoon.
"Try for a day when background clouds add drama," he said, "although mountain conditions change so quickly, you may just have to trust your luck when timing your trip."
Photo op: Quality Falls
Quality Falls is one of Erlendson's favorite locations, being close to Tumbler Ridge at the end of a short, easy hike that offers terrific photo opportunities. The trail is an easy, well-maintained 30-minute walk through a spruce forest, descending to a viewpoint above the falls. From there a short, steeper section can be easily be navigated down to the creek.
Directions: The parking lot is well signed, just six kilometres out of town on Highway 52 (Heritage Highway) north towards Dawson Creek.
Photo tip: From the creek level it's hard to imagine taking a poor photo, since when you're looking towards the falls the scene almost composes itself for you, said Erlendson.
"The creek is shallow and it's easy to cross the creek to get different points of view for more creative and unique photos," he said.
Erlendson recommends trying a shot with your companions right in the waterfall or in the creek or else setting up a tripod in the creek at the base of the falls.
"This is a fun photo shoot that children will enjoy taking part in," he said. "Just be careful because the rock is slippery and you don't want to walk back with a sprained ankle or damaged camera."
Quality Falls photographs best on a light overcast day and with that type of light you can get good shots at any time of day.
"Try polarizer and ND filters to take the glare off the water and decrease your shutter speed, especially when the creek flow is low," Erlendson said.
Photo op: Flatbed Falls
Flatbed Falls is another picturesque little waterfall close to Tumbler Ridge, with a trailhead just a kilometre out of town on Highway 52 South. At only four metres high, with flow variations between peak runoff and after storms to low flow in late summer after a dry spell, the attraction offers an accessible opportunity for varied photo excursions.
The walk down to the falls is along a short, steep gravel path that passes a log shelter and a wetland with several beaver dams (you may get lucky with a beaver photo opportunity). The trail ends at the top of the falls and there is a side trail to walk down to the creek bed below the falls.
"The return walk up will leave most people huffing and puffing," said Erlendson, "but it beats the heck out of your gym StairMaster."
Directions: The trailhead is located just one kilometre out of town on Highway 52 South. The trailhead has signboards for three trails: one to the falls, another to dinosaur tracks upstream on Flatbed Creek and a third that runs downstream to the Lions Campground.
Photo tip: "I prefer low flow, when you can walk across the creek and take photos from all different angles: above, from beside and below the falls," said Erlendson.
Flatbed Falls are definitely more photogenic in the evening, with the sun setting, so it is best to combine with a day trip when returning to town. Try a wide variety of viewpoints and focal lengths, from normal to wide, Erlendson adds.
"This is another location that children will enjoy," he said. "If they are tempted to jump from above the falls into the pool, please make sure to check the pool depth first, and never dive. You might be able to get some great action shots from beside and below the falls."