A startling discovery
Tumbler Ridge is home to the largest concentration of dinosaur footprints in British Columbia
by Kali Love —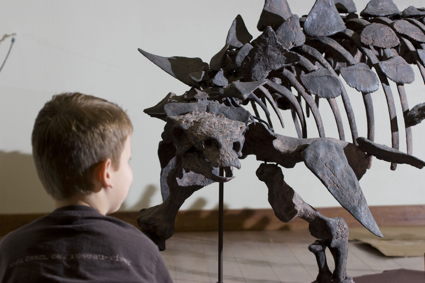 While the town of Tumbler Ridge is only 30 years old, its history dates back 230 million years to when dinosaurs roamed the earth. However, it wasn't until 2000—when two boys were tubing down Flatbed Creek near Tumbler Ridge—that a dinosaur trackway was discovered.
Since then, more than 700 dinosaur bones have been found. In 2003, the Peace Region Palaeontology Research Centre (PRPRC) was established, and the Dinosaur Discovery Gallery opened in 2007. Here, visitors can see numerous displays of fossils collected from around the region.
Follow their footsteps
The dinosaur trackways can be viewed by taking a walking tour along the Flathead Pools Hiking Trail near Tumbler Ridge. Cabin Pool, the first pool that hikers will come across on the trail, has almost 200 dinosaur footprints—the largest concentration of dinosaur footprints in B.C.
Kelly Bryan, the community development officer for the District of Tumbler Ridge, said the discovery of dinosaur bones in the area and the Dinosaur Discovery Gallery itself are important to the community.
"Paleontological discoveries taking place in the region are turning Tumbler Ridge into a Shangri-La for adventure enthusiasts," said Bryan, "combining great outdoor recreation opportunities with an immersive dinosaur experience."