Top things to see and do on the Sunshine Coast
Outdoor enthusiasts or those looking for a quiet retreat love this place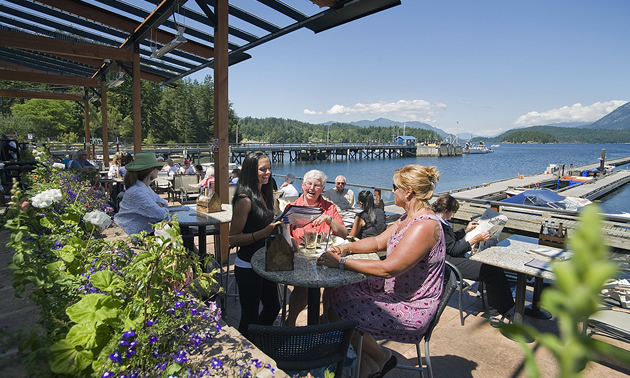 Travelling to B.C.'s Sunshine Coast is a delight at any time of the year, with its picturesque views, charming coastal communities and laid-back atmosphere. The temperate climate is perfect for a whole range of activities, from adventurous outdoor recreation to the more relaxed option of exploring what the appealing towns have to offer.
1) Paddling Sechelt Inlet
Protected by rugged mountains, the usually calm waters starting at Porpoise Bay are quiet and safe--but don't ever think it will be boring. Those who enjoy the wilderness will love this area while paddling a kayak or canoe and cruising along quiet little inlets, viewing the wildlife along the rugged coastline or stopping at one of the sandy beaches for a picnic lunch. Sechelt Inlet is a long and narrow inland sea with fabulous camping and awesome marine parks to explore.
2) Golfing
Hitting the ball over the rolling terrain as you enjoy the majestic mountains around you and the rugged water's edge below makes a day on the golf course a delightful experience as well as a challenging one. With many golf courses to choose from, a day on the fairway may be possible each month of the year.
3) Attend a workshop
The Sunshine Coast is an artist's delight, with workshops for every medium. Study with an artist in residence for a two-day workshop while learning about colour and composition, or receive technical advice from a well-versed instructor. The learning opportunities are endless for those interested in the visual or performing arts and the written word. That's not all: spend a weekend taking a pottery class, expanding your knowledge on photography, learning glass-blowing or attending one of the many art festivals that take place here regularly.
4) Hiking
Whether you are interested in strolling along one of the gentle paths or taking an extreme hike for several days in the rugged mountains, this coast is definitely a hiker's dream. An excellent example of viewing nature at its best is the Suncoaster Trail starting at Earls Cove, with gentle inclines through the forest offering glimpses of the wetlands. It's more strenuous than a beginners' trail, but worth it to see the 21-metre bridge spanning Sakinaw Creek and to stand by the waterfall, appreciating the fabulous view.
5) Dining
The Sunshine Coast offers opportunities to indulge yourself in some of the most appetizing food on the west coast. There's everything from very casual cafes to fine dining establishments, with excellent food choices and lots of variety.