Snowbirding 101: RV park etiquette
Learn some of the do's and don'ts of living in an RV park.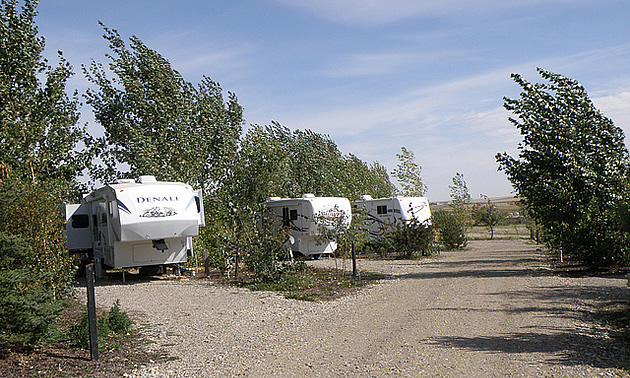 Question: What are some of the do's and don'ts of living in an RV park?
Answer: Great question! One of our RVing friends summed up the boundaries very well. She said, "your rights go as far as your neighbour's ears."
In most RV parks, the sites are rented to you on a daily, weekly or monthly basis. Some RV parks offer significant savings if you lease a site either by the season or by the year. Those places often let you put up a storage shed and leave it there all year round.
Most of the issues around etiquette centre on consideration for others. In many of the older parks the sites are so narrow that if both neighbours have wide slides, there is no room to walk between the RVs. Consideration for each other becomes even more important. The positive side of this is that it becomes easier to meet your neighbours.
In some cases, guidelines are written, but if not, here are some of the do's and don'ts we have learned:
Your site
Try to keep your site neat and uncluttered. Most parks do not allow open fires, but they often do allow barbeques or container campfires.
Ensure that the sewer connection is tight and secure. Most parks request that biodegradable chemical products be used for wastewater, especially if they are on septic systems. In southern Arizona sewer hoses must be supported up off the ground (we use a slinky-type support system).
Try to remember that your neighbour may not get up as early as you do or stay up as late, so noise can be an issue—not everybody enjoys loud music or other noise.
Working on vehicles may or may not be allowed on the site—check with management. The same goes for washing vehicles.
Pets
It does surprise me how many RVers travel with pets, and the number of pets some of them have. Every park (including boondocking places) expects that people will keep their animal (particularly dogs) under control—on leashes—and clean up after them. Many RV parks have special runs for dogs to socialize and run unleashed, but it is still expected that the pet owners will pick up after their animals.
Remember, it is up to you to keep your animals under control. Your neighbour can not be expected to discipline your dog(s) or your children.
The managers report that most of the complaints they get are about barking or noisy animals.
Common areas
The laundry rooms are the facilities most often used by guests. Some have limited times and loads but it is common etiquette to restrict your use to three machines at a time and take care to use the most appropriate soap for the washers. If you use too much soap in front-end loading machines, they will overflow.
It is common practice to wipe out washers and showers after you use them.
Most RV parks have dumpsters for garbage and litter. Trash needs to be securely tied and boxes crushed before putting them in the dumpsters. Many parks have recycling programs and supply can crushers and special containers to recycle the aluminium cans.
Park libraries are often run on a take-one-leave-one basis. ­Try not to take or leave more than the library can handle.
Cleaning up after yourself is an expectation.
Boondocking or dry camping
Most RV parks have overflow areas or sections where RVers can choose to dry camp.
Boondocking or dry camping has its own etiquette issues. While the foundation is still consideration for others and we don't have to be concerned about sewage connections, using a park or community dump has its own do's and don'ts.
Accidents happen, but do clean up if that dreaded accident does happen to you.
Some places charge for dumping, but other community facilities offer dump sites that only require a donation. Donations are typically $2 or more.
Be especially sensitive to the time of day/night when you use your generators. Noise from generators is the most common complaint (next to pet noise and messes) reported by park managers.
The BLM (Bureau of Land Management) that manages many of the boondocking areas, has regulations that include leaving at least 15 feet between RV sites. This is also a safety issue, to prevent the spread of fire from one RV to another.
Neighbours are usually welcome to join bonfires. It's nice to add to the wood supply if you have some.
General etiquette
Bring your own chair and drink when visiting another site.
Don't overstay your welcome—many parks have limits on the length of time you can stay in the dry camping areas, as do some BLM visitor areas.
By the way, it is common practice to leave your door open if you want company and to close it if you want privacy and wouldn't answer it anyway.