Keeping fit on the road and in the RV park
A survey of snowbird activity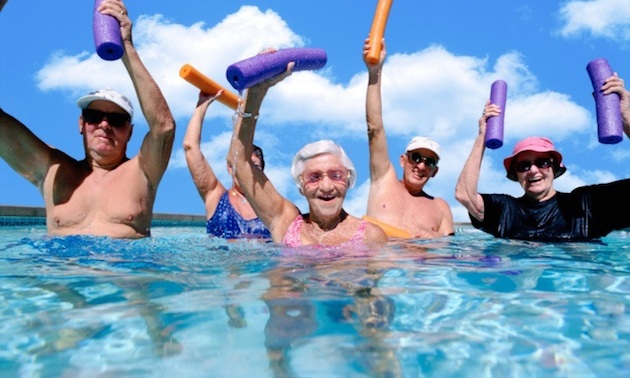 Question: RVers are active and relatively a healthy bunch. What are some ways to get regular exercise both on the road and in an RV resort?
Answer: What a great can of worms we opened here. Being an I-hate-to-exercise type, I decided to solicit comments from RVing friends. I discovered that there are as many exercise haters as there are dedicated fitness enthusiasts. And that gives us a wide variety of possibilities.
Joanne knows folks who exercise and wonders if that counts?
Betty says she always has great intentions, but somehow something always interferes. So, since self motivation is lacking, she puts herself in situations that force lots of walking and physical activity.
Walking
Walking is something most people reported.
Dedicated walkers have devices that measure the distances they walk along with the number of calories they burn. Walking almost becomes an obsession.
Many folks do use walking sticks for better balance.
Hate walking alone? We've encountered gals who meet and walk every morning and welcome newcomers, even out boondocking. All you need to do is ask. A great place to meet other walkers is in the laundry.
James warns us to walk as briskly as we can for our cardiovascular system but to be careful not to overextend ourselves.
When you are driving in the RV, stop at all the rest areas you can (usually there aren't very many) and walk around the grounds.
When you are in a park you can stroll up and down the "streets." We used to call this the Morning Parade. You not only get your exercise, you get a chance to meet and talk with your neighbours.
Walking the dog is not an option but an obligation. If you travel with a dog or other walkable animal, go to a path to walk rather than in a fenced-in dog run.
Hiking
Jaimie tells us that hiking is her choice. Nearby province/state or national/federal parks or forests are good places to check for hiking trails and paths.
Bicycling
We carry bicycles on our RV—great for getting around a park.
A fun thing to do if you are a bicyclist is seek out Rails to Trails paths in your travels.
Dancing
Five minutes of clogging to fast music (think fiddle tunes) is as good as any cardio workout.
Margo points out that line dancing is a big favorite for exercise; many RV parks have groups that meet once or twice a week to have fun and stay active.
Organized activities
Many RV parks have fitness centres and most have a variety of equipment including treadmills and stationary bicycles.
Some parks have swimming pools and have exercise sessions, usually led by someone from the park.
One park we frequent has a shuffleboard pit and many resort-style parks have golf courses on site.
Pickleball has become very popular. This is an RV park creation very much like a short tennis game but with pingpong-type paddles and whiffle balls. Teams are mixed women and men.
Individual activities
Del attaches rubber bands to the ladder on the back of the motor home for upper body exercise.
I carry a collection of four DVDs—stretch, core fitness, strength and yoga—that can be done by myself and in the RV.
Jaimie noted a yoga routine DVD for RVs, though she is not a yoga person.
Get a gym membership that you can take with you.
I know that Curves is one fitness centre where membership is honoured throughout the States and Canada.
If staying somewhere long enough, check to see if there is a senior centre or civic centre with equipment that lets one buy a membership for the duration of your stay.
Ed tells us that he found that most YMCAs will honour each other's memberships for occasional use.
The real question is: what sort of fitness regime is right for you... and then do! It takes effort sometimes to get up and get with it, not just look at it.