Insuring an RV you leave parked in the States
Some insurance companies specialize in RVs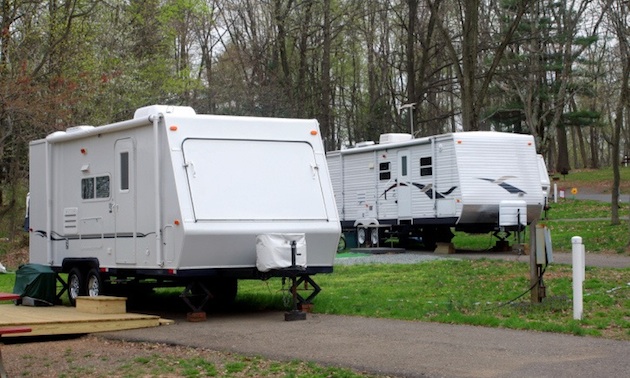 Question
Can you suggest an insurance company that will insure our fifth wheel in Washington state yearly even if we live in Canada? We lease a spot there and are having a hard time finding insurance.
Answer
This is an interesting question that few of us have ever thought about before. With the increased cost of fuel and RV parks and the ever unpredictable weather, more and more RV snowbirds are now opting to leave their rigs in the south rather than drive them back and forth every year.
When I started researching this question, my first call was to the CAA—who really had no idea what I was talking about.
Okay, let's find out what the American insurance companies say.
The companies I approached are ones that are endorsed by an organization I am affiliated with. They told me that there did not seem to be a problem with the Insurance issue, that they would certainly insure a Canadian registered RV in the U.S.A. but that each state has different regulations for the length of time a vehicle could remain in the state without getting the appropriate licence.
This did not seem like a viable solution to me, because you need to have a permanent address in the state to get the licence. Anyway, why would I want to register my RV in the U.S.A. if my permanent residence is in Canada?
The next direction I took was to contact the vehicle registration departments of the government in Alberta and British Columbia to find out their regulations regarding registration of vehicles that were not actually present in the respective provinces.
They quickly pointed out that I was talking about renewing the registration rather than a first time registration, because there is a huge difference.
Okay, we want to renew the registration.
Well, in B.C., you work with ICBC. Their mandate is insurance, but in British Columbia they also deal with vehicle registration. I was told that as long as the vehicle is registered in B.C. and the registrants reside in B.C. and they have their health insurance coverage there, the renewal is seldom, if ever, questioned.
So, in B.C., ICBC is a Canadian insurance company that will insurance your fifth wheel in Washington state, providing your permanent residence is in B.C. and that you are eligible for health insurance in B.C.
Now, Alberta is a different story
Again, it is not a matter of renewing the registration but a matter of insuring the vehicle that is out of the country, because it is imperative that you have valid insurance to renew your registration.
Most insurance companies in Alberta are reluctant to insure any vehicle out of the country for more than six months—even less than that for many of them.
Working through an insurance broker, I did find one company that is very RV friendly and willing to carry the insurance for longer periods of time.
My suggestion is that you consult with an insurance broker or an insurance agent. I also understand that some RV dealers can recommend companies that have a better understanding of the needs of RV snowbirds.
What we discovered
Every province and state has its own rules.
Very few insurance companies insure vehicles that are out of the country for more than six months.
The bottom line
There are very few Canadian insurance companies that will insure a vehicle that will be out of country for more than six months, and most would rather the time be even less. There is the rare company that will insure RVs for a longer period of time.
Good luck in your venture and do talk to RV dealers as well as insurance brokers and agents to find RV insurance that will meet your needs.