The California Association of RV Parks and Campgrounds redesigns its consumer website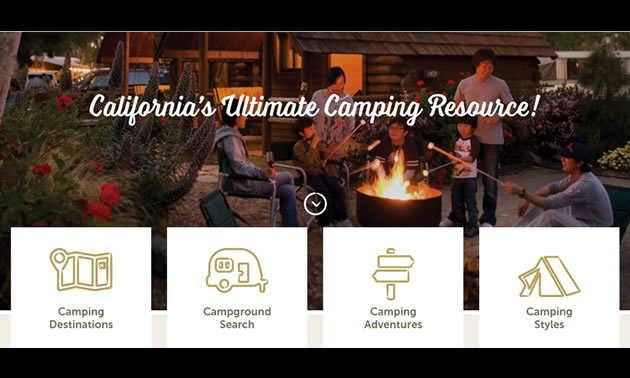 Camp-California.com not only has a new look and fresh content, but it has been redesigned to accommodate mobile devices, including tablets and cellphones.
"People love our newly designed website," said Debbie Sipe, CEO of Camp-California.com, which highlights nearly 300 mostly privately owned and operated campgrounds, RV parks and resorts that are not listed on recreation.gov and other government websites.
"Camp-California.com fills a critical niche for camping enthusiasts throughout California," Sipe said.
The website enables consumers to search for campgrounds not only by location, but based on their amenity preferences.
"For example," Sipe said, "if you're looking for campgrounds with fenced pet areas, on-site restaurants, bike rentals or live entertainment, you can search for parks that have these specific amenities."
Camp-California.com, in fact, has an advanced search function for campgrounds, RV parks and resorts based on 27 different amenity requests. The photos, videos and social media postings of each campground, RV park and resort have also been integrated into Camp-California.com, which also now has the ability to show consumers appropriate online advertisements about campgrounds as well as camping and RV supplies based on the consumer's IP address, said Jeff Beyer, CEO of La Quinta, Calif.-based Big Rig Media, LLC.
The website also features travel and trip planning ideas for 12 different regions of California as well as detailed information on fairs and festivals, music events, and places to explore everything from beach camping to caves to wildlife. Brand new sections, Adventures and Camping Styles, expand the travel planning website. Whether you want to golf, camp on the beach, raft a river or swim in a waterfall, the Adventures section has plenty of ideas to help you explore California.
The Camping Styles page offers insights in alternative lodging options, glamping, traveling with pets, keeping kids busy, or how to rent an RV. In addition, Camp-California.com features a digital version of its 84-page, award winning print campground directory, Camp-California! The Camper's Guide to California, which is available in digital format, can be accessed with this link: http://online.fliphtml5.com/fbotl/aygu/. The digital version is compatible with desktop, Apple and Android devices.
The printed guides are being distributed at all California Camping World locations, Bass Pro Super Stores, all 14 California Welcome Centers, the California RV Show, as well as through affiliated member campgrounds, RV dealers and service centers. A print copy can also be ordered at Camp-California.com.
The camper's guide is provided to consumers free of charge by members of the California Association of RV Parks and Campgrounds, many of which are family owned and operated. The directory is also supported by a growing base of advertisers, including campgrounds and RV aftermarket suppliers.
"Our advertiser base is growing more and more," Sipe said, adding, "Businesses that market to RVers are finding Camp-California! to be a successful medium."
For more information, visit Camp-California.com.