New 23% "Bed and RV Park" tax could drive budget conscious Canadian snowbirds out of Tucson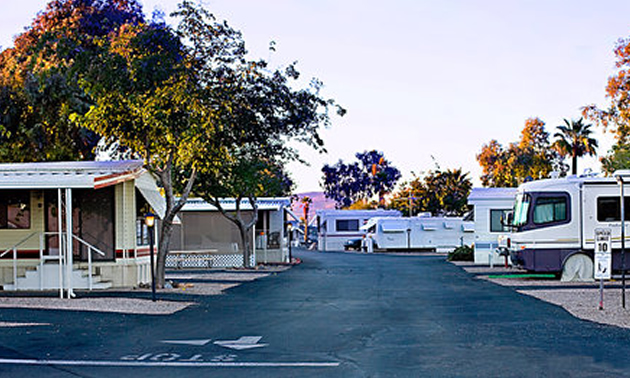 Tucson's RV park owners are alarmed over escalating surcharges that are being applied to RV parks, which they fear could drive snowbirds to abandon Tucson in favor of other more affordable destinations.
"These fees pose an unfair financial burden on RV park guests and undermine Tucson's competitiveness as a snowbird destination," said Scott Swanson, president of the Arizona Association of RV Parks & Campgrounds, adding that he asked the city to rescind the surcharges at a recent City Council meeting.
Speaking on behalf of RV park owners in Tucson, Swanson said the surcharge, when combined with other state and local taxes, ultimately requires the typical RV park guest to pay an overall tax rate of more than 20 percent when they visit Tucson.
Swanson is referring specifically to the council's recent doubling of an overnight surcharge on RV park sites and hotel accommodations from $2 to $4 per night.
"If one takes this hard dollar tax of $4 against a $40 RV site or hotel room, this $4 surcharge becomes a 10 percent tax," Swanson said. "Now add the state, county and city taxes of 9.05 percent, plus another 50 cent surcharge for the stadium and total them all up and the RV Park guest is paying a total of 23.3 percent in taxes."
Swanson also noted that, based on his research, Tucson is the only city or town in Arizona that is placing a hard dollar tax on hotels and RV parks.
While the City Council approved the surcharge to address a city budget deficit, Swanson said the surcharge is really a bed tax because it has only been applied only to RV parks and hotels in Tucson. He added that the surcharge violates the spirit of state laws that require bed taxes to be used exclusively for promoting tourism.
Swanson also plans to warn the City Council that word of Tucson's escalating tax rates, and their unfairness toward RVers, will spread quickly through the snowbird community.
"Once they get wind of these extra fees," he said, "it will be spread across the social media platforms that offer these RVers a place to share their experiences at RV parks and cities in Arizona. They will bypass Tucson. Instead, they will go to another RV Park in the Tucson area that only has the state and county taxes. Then the city will lose not only the $4.50, but the other 6 percent TPT tax you have. Or even further, they will go to another Sunbelt region city, taking even more disposable income they may have for spending at local restaurants, hair salons, golf courses and gas stations. Think about the Canadians. With the current exchange rate, that $4 surcharge is now $5.31 in Canadian dollars. These travelers are driving RVs up to 2,500 miles to get here and they will travel an extra few miles to stay at RV parks that do not have exorbitant tax rates."
While the new surcharge only applies to RVers who stay for less than a month, RV park owners worry that the tax will discourage snowbirds from trying out Tucson's RV parks.
Dave Christman, who owns and operates Prince of Tucson RV Park, said the surcharge pushes the overall tax rate up to 23 percent at his park. He worries the tax increase will prompt snowbirds and attendees who come for Tucson's annual Rock, Gem & Fossil Showcase to consider staying in other cities instead of Tucson.
"Snowbirds are very sensitive to cost factors," Christman said, adding, "I think we're going to lose the whole rock and gem show as a result of this tax."
Chuck Hays, who co-owns and operates Far Horizons' Tucson Village RV Resort in Tucson, noted that the increase in transient occupancy tax has no effect on snowbirds who are already here and plan to stay for one month or longer. But he said the tax can discourage other snowbirds from even checking out Tucson because the tax increase makes the city less competitive with other cities in Arizona and throughout the Southwest.
"We're competing against other jurisdictions that don't have this tax," Hays said.
Based in Phoenix, the Arizona Association of RV Parks & Campgrounds is the trade association that represents privately owned and operated campgrounds, RV parks and resorts in Arizona. In addition to representing private parks in government forums, the association markets campgrounds, RV parks and resorts through http://www.GoCampingInArizona.com its s,tatewide travel planning website, and through the 2016 RV and Camping Guide to Arizona, which is available free of charge in online. The camping guide is available in digital format on GoCampingInArizona.com and can also be ordered by emailing a request to [email protected].