Meet Pascal Pillon and his new age Droplet trailers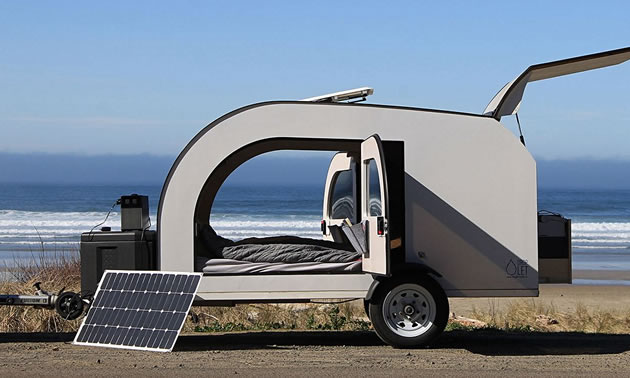 Meet Vancouver's Pascal Pillon, designer, engineer and creator of the new teardrop trailer called the Droplet. He has a new vision for campers and campgrounds alike -- and might we say it's a bit of a new age vision.
According to a recent interview with the Adventure Sports Network, Pillon said, "They started by drafting the lines in 2016, then building foam-board concepts and eventually building a full-size cardboard model in their living room. Next, they 3D-modeled everything and they started fabrication in December 2016, with their prototype (and personal trailer) being finished in June 2017."
Pascal Pillon, towed his prototype with a Toyota Matrix and the line he is now manufacturing is both rugged and lightweight. He further told ASN, "The construction is a high-tech laminate that is inspired by boat and aircraft building that gives it strength while the balsa wood shell core helps keep it light. Plus, the Droplet offers plenty of natural light to come in, keeping them bright inside. And the cooking space in the back features a slide-out fridge, a two-burner propane cooking stove and a recessed sink."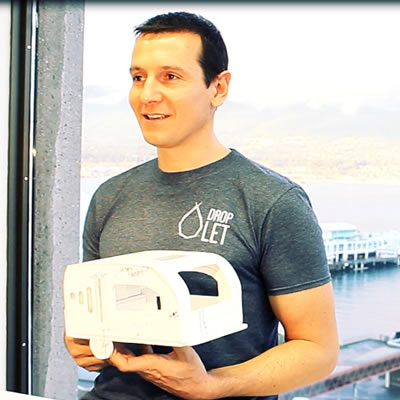 Droplet manufactures in Langley, BC with the latest technologies including CNC machining – Walls; Waterjet cutting – Windows; 3D printing - Windows latches; Thermoforming - Front window; Laser - Wheel alignment and 5-ton press - Wall laminates.
And now here's an interesting twist, company owner Pascal Pillon spoke of the company's vision of creating their own campgrounds all over North America --free campgrounds that is -- for Droplet owners. "Droplet is currently building their first campground near Osoyoos, BC, Canada this May. And they hope to have the option to rally coast-to-coast with a Droplet in five years, solely sleeping in Droplet-owned campgrounds for free."
Evidently, Pillon sees this as the future of camping, "(We) have also been taking 10-percent of company profits to spend directly on buying land to secure and maintain clean and free camping spots for Droplet owners across North America."
"Our goal is to revolutionize the teardrop trailer segment by designing lightweight, roomy, beautiful camping trailers and mindfully using resources," Pillon told ASN.
Free camping for Droplet owners sounds like a good start, even if it does sound a little "new agey."
For more info visit: https://www.droplet-trailer.com/