Kids ride free during spring break at Sea to Sky Gondola in Squamish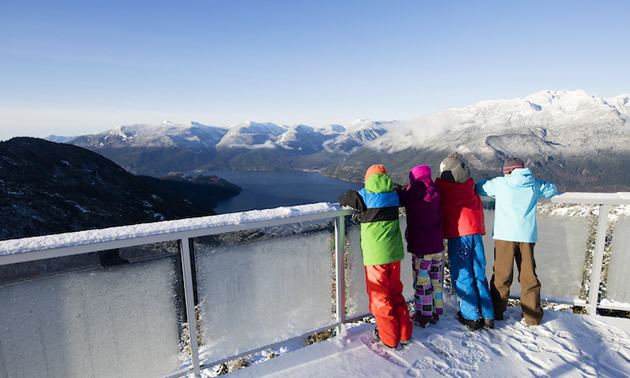 Unplug the kids and unlock outdoor adventure over Spring Break at the Sea to Sky Gondola in Squamish, BC by saying a simple phrase at the ticket window: "Secret Spring Break." Monday to Friday, March 13 to March 31, up to three children 12 and under accompanied by at least one adult, can ride the Sea to Sky Gondola for free.

The Sea to Sky Gondola's forested trails are the perfect backdrop for unstructured play time in nature and the summit's viewing platform's iconic views are the perfect place to break out the selfie stick for some candid family photos. Kids can snowshoe along winding alpine trails, snow tube, play a game of Winter Bingo and dare to cross the unforgettable 100 metre long Sky Pilot Suspension Bridge before warming up with a hot chocolate and a snack in the lodge.

"Spring Break should be just that, a break from the every day. It's the perfect time for families to dedicate some time to just playing outside," says Kirby Brown, Sea to Sky Gondola General Manager. "Our stimulating natural alpine environment is balanced by a cozy alpine lodge so families with kids of all ages can spend a couple of hours or the whole day exploring, recharging and sharing memorable outdoor adventures together."

The Sea to Sky Gondola's annual pass campaign will also launch this spring on March 13. A Sea to Sky Gondola Annual Pass lets guests access all four seasons for $119 + tax for adults and $299 + tax for a family of four. Annual passes will be available to purchase at any time of the year but to access the discounted rate, purchase must be made between March 13 to April 30, 2017.

With unlimited access to the Sea to Sky Gondola annual passholders can take advantage of the full year round experiences designed for families, outdoor adventurers and everyone in between – hello sunset après sessions with the Mountain Music Series this summer!

Hours of operation now until April 30 are 10 am to 5 pm, with the last ride down at 6 pm. Adult day tickets are $37.95 when purchased online and $39.95 at the ticket window. Check out ticket pricing and buy online here: https://www.seatoskygondola.com/visit/tickets-and-passes.

Coming from Vancouver? The Squamish Connector (24 seats) offers roundtrip shuttle service from three downtown Vancouver locations to the Sea to Sky Gondola. Guests can enjoy three hours at the Sea to Sky Gondola before returning to downtown Vancouver by 4 pm. Learn more: https://www.seatoskygondola.com/visit/shuttle.
About the Sea to Sky Gondola
The Sea to Sky Gondola is one of British Columbia's newest iconic tourist attractions and is located in Squamish, BC. The gondola was featured in the New York Times' 52 Places to Go in 2015 list, where they cited the attraction's "unusual combination of West Coast wilderness and accessibility". The gondola is situated between Shannon Falls and the Stawamus Chief and transports guests to the Summit Lodge on a ridge leading towards Mount Habrich. The summit of the Sea to Sky Gondola provides a base camp for further exploration.