Seven leading Canadian RV dealerships garner Top 50 Dealer award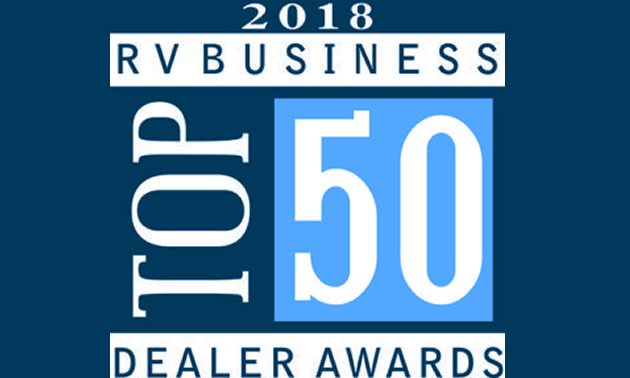 Some of the best names in Canadian RV retailing were recently recognized for a major award. The 2018 roster of RVBusiness Top 50 Dealer Awards recipients has been released by RVBusiness magazine and its marketing partner, BJ Thompson Associates.
Here are the Canadian Top 50 RV Business award winners (in alphabetical order):
1. ArrKann Trailer & RV Centre, Edmonton, Alberta, Canada
2. Bucars RV Centre, Balzac, Alberta, Canada
3. Fraserway RV, Abbotsford, British Columbia, Canada
4. Rangeland RV & Trailer Sales, Rockview, Alberta, Canada
5. Sicard RV, Smithville, Ontario, Canada
6. Voyager RV Centre, Winfield, British Columbia, Canada
7. Woody's RV World, Calgary, Alberta, Canada
Public recognition of these U.S. and Canadian RV retailers took place this year at a Nov. 7 awards reception during the 2018 RV Dealers Convention/Expo co-hosted in November by the Recreation Vehicle Dealers Association (RVDA) and RVDA of Canada at the Paris Las Vegas Hotel.
"As we mentioned in last year's RVB Top 50 announcement — and it holds true even more so today — we're pleased with the increased recognition that these awards are garnering in both the U.S. and Canadian recreational vehicle markets not only because of the commercial recognition but also the advertising clout that goes with it," said RVB Publisher Sherman Goldenberg. "But, as many in the industry are well aware, it also provides a unique benchmarking tool for a wide array of retailers to examine their own operations and see how they measure up to industry standards and their own expectations on the brink of the 2019 model year.
"For these and other reasons," he added, "we congratulate this year's Top 50 dealers and look forward to seeing them all with their employees and families on stage in Las Vegas."
An expanded 11-person panel of independent industry insiders, the names of which are not released, met in an intensive two-day session in early September to review the applications and complete the selections in a closed door session at the RV/MH Hall of Fame in Elkhart, Ind., said BJ Thompson.
"We were able to field a judging panel that had expanded familiarity and experience with customer service operations at RV dealerships across North America," reported Thompson, a former long-term chairman of the RV Industry Association's Public Relations Committee. "The judges were pretty impressed with the quality of the applications; they analyzed and debated and, at the end of the day, had a real tough time paring down the top 50 candidates.
"Some dealers that would usually make the cut didn't quite make it this year," noted Thompson. "But it wasn't because they aren't great dealers — it's because other dealers continue to step up their game and did a good job of portraying as much in their respective applications. Many dealers continue to refine the quality of their operations, place even more emphasis on customer service and sharpen their focus on technician effectiveness. It's pretty impressive how tenacious and creative some RV dealer applicants can be."
The 2018 Top 50 honorees program was sponsored by Airxcel, Brown and Brown Insurance, Cummins Power Generation, Dometic Corp., Freightliner Custom Chassis Corp., Lippert Components Inc., Northpoint Commercial Finance, NTP-STAG, Protective Asset Protection and Wells Fargo CDF.
RV Business is a leading RV industry trade magazine based out of Elkhart, Indiana.