Free camping guide for California now available
Brief descriptive write-ups, locator maps, websites, telephone and contact information are provided for each park.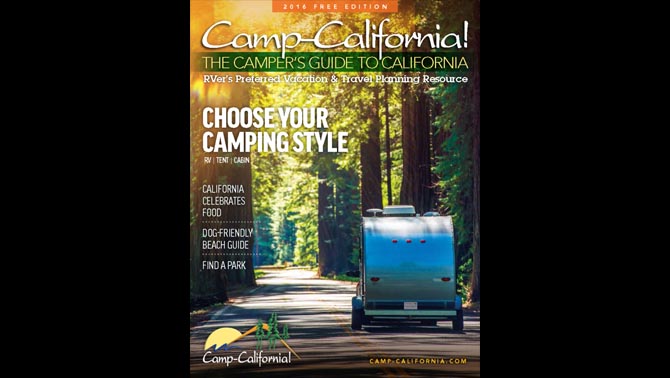 AUBURN, Calif., March 17, 2016 — Despite the ever expanding universe of information online, the fastest and easiest way to find California campgrounds with the amenities you want is still with the print version of Camp-California! The Camper's Guide to California.
The 2016 edition of the award winning directory is hitting the streets this month, and it's free for the asking by calling (530) 885-1624 or online at Camp-California.com. Camping enthusiasts only need to pay for the postage required to send the directory to them. Camp-California.com also has a listing of locations where consumers can pick up the print directory on their own.
"Our App is a digital magazine version of the Camper's Guide and is also available on the same website," said Debbie Sipe, executive director of the California Association of RV Parks and Campgrounds, which produces the annual publication. "But nothing beats the print directory for convenience and speed," she said, "particularly when travelers want to quickly compare campgrounds in specific regions of the state and find out if they are pet friendly, if they welcome tenters, if they are big rig friendly, or if they have WiFi, rental accommodations, swimming pools, laundry facilities or a camp store."
The Camp-California! travel planning resource includes amenity grids for campgrounds in each region of the state that highlight 17 different types of amenities. Brief descriptive write-ups, locator maps, websites, telephone and contact information are also provided for each park. The App version clicks through to even more extensive listing information at Camp-California.com and advertiser websites. But unlike electronic devices, printed campground directories won't burn up precious online data, and their information doesn't disappear if you travel into a remote area. "Camping trips almost always take you out to areas where you won't have a good cellphone signal," Sipe said. "So having a comprehensive printed resource that allows you to quickly find the information you need by city, park name and advertiser is very helpful."
This year's directory includes its first ever guide to dog-friendly California beaches. Listings of annual food and wine festivals and other special events for each region of the state are also provided. The 80-page guide received the State Directory of the Year Award from the National Association of RV Parks and Campgrounds for eight out of the past 11 competitions involving state campground associations, including the last three in a row.
The California Association of RV Parks and Campgrounds printed 200,000 copies of the Camp-California! Guide this year. The guides are being distributed at all California Camping World locations, Bass Pro Super Stores, all 14 California Welcome Centers, the California RV Show, as well as through affiliated member campgrounds, RV dealers and service centers.
The camper's guide is provided to consumers free of charge by members of the California Association of RV Parks and Campgrounds, many of which are family owned and operated. The directory is also supported by a growing base of advertisers, including campgrounds and RV aftermarket suppliers. "Our advertiser base is growing more and more," Sipe said, adding, "Businesses that market to RVers are finding Camp-California! to be a successful medium."
Last year, more than 10,000 digital copies were downloaded or accessed through desktop options, iTunes and Google Play, averaging nine page views and 1.3 links clicked every time the guide was accessed digitally.
For more information, visit Camp-California.com.