Flying Flags RV Resort creates a private "resort within a resort" with $8 million expansion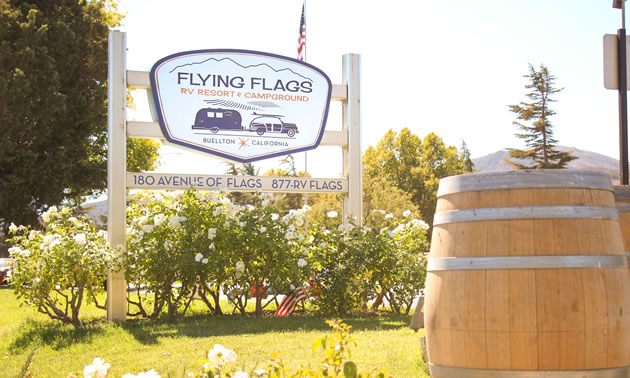 BUELLTON, Calif., Sept. 15, 2017 — Flying Flags RV Resort is close to completing an $8 million renovation that will include something new for a California campground — a private, gated resort within the campground that includes 19 cottages, an exclusive pool, and an outdoor kitchen complete with barbecue facilities.
"It will be ideal for weddings, corporate events, and other groups that would like to have their own special space," said Lydia Thomas, Flying Flags' Assistant General Manager. The cottages are in place and available to rent while the private swimming pool will be available in the coming months.
Owned by Irvine, CA based Highway West Vacations, Flying Flags is already a unique place to camp, offering not only RV sites but an eclectic mix of vintage RVs from the 1940s to the 1970s along their "Airstream Alley". Guests can stay in a shiny Airstream, vintage trailer, or "Canned Ham" as well as an assortment of fully furnished cottages and safari tents. "The Airstreams and Vintage Trailers are really trendy right now," Thomas said. "People come to stay and even rent out a couple of units right next to each other. It's a great way to enjoy the camping experience without owning a RV."
Demand is also very high for Flying Flags' Safari Village which boasts nine luxury safari tents. Each unit can sleep anywhere from two to six guests as each tent offers different layouts and bedding configurations. Each tent is fully furnished and powered, equipped with cable television and a mini fridge, and includes an outdoor kitchen with a barbecue overlooking the beautiful Santa Rita Hills, known for being one of the area's Pinot Noir growing regions.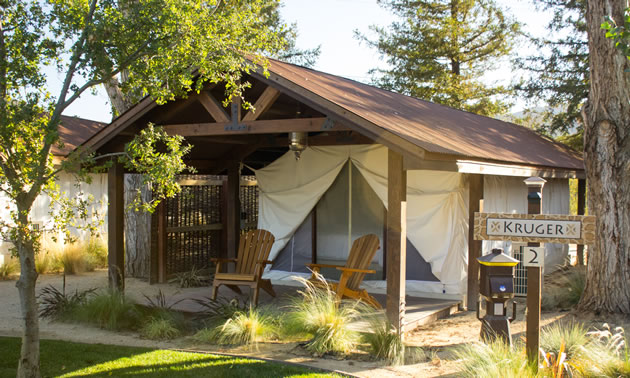 "Many groups come and rent out the entire safari village for gatherings or corporate events. Our cottages and cabins have also grown in popularity. We have an array of options at the resort; our National Parks cottages are quaint and spacious inside, while our surf cabins offer a more trendy layout with outdoor seating, a private hammock, and barbeque grill with a setup more focused on the outdoor experience." Thomas said.
In fact, Flying Flags has seen so much demand for its rental accommodations in recent years that the park decided to create an exclusive area called the Santa Ynez Guest Ranch where families and other large groups could have their own private space in the campground, located on a large plot of land with mature shade trees including pines and eucalyptus.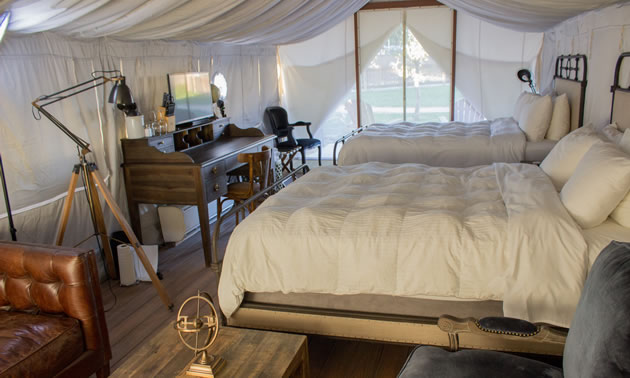 "We didn't add any additional RV spaces with this renovation," Thomas said. "But, we're adding a total of 32 new cottages."
The new units include 19 new cottages for Flying Flags' private "resort within a resort," nine "Wine Cottages" and four "Brewhauses", each with a craft brewery theme.
The park is also building five "Tiki Tents," which will be adjacent to the new pool and a great place for tent camping.
"What's great about Flying Flags is that we have so many different options for accommodations. There is something for everyone," Thomas said, adding, "We have numerous return guests that visit frequently from Los Angeles and the surrounding areas. They love to pop over for a weekend getaway to relax and unwind."
In addition to offering a wide assortment of RV and tent sites and rental accommodations, Flying Flags also has onsite amenities including a swimming pool and café as well as weekend activities. Flying Flags partners with several vineyards and offers a variety of excursions including wine tasting packages and casino shuttles.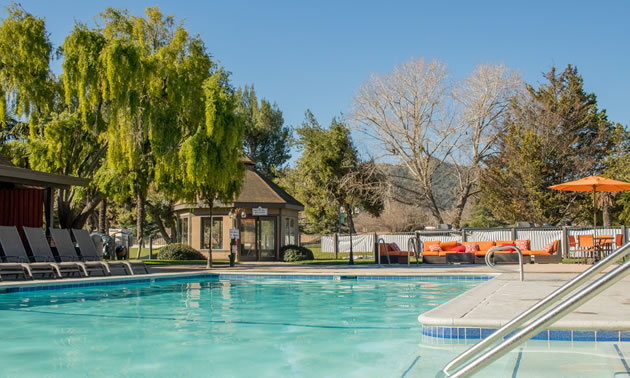 "We just opened a new swimming pool with a splash zone," Thomas said. "We also have a cafe with a fantastic menu and our ever-popular Friday night barbecue."
Live musical entertainment is provided Friday and Saturday nights during the summer months but will continue to be offered on Saturday nights throughout the fall.
The resort also offers children's activities and scavenger hunts for kids on weekends as well as yoga classes for adults. A pumpkin carving activity will be offered the weekend before Halloween.
The resort is just two miles away from the quaint Danish town of Solvang, a popular destination known for its dining, beer gardens, bakeries, and gift shops.
Flying Flags RV Resort is affiliated with the California Association of RV Parks and Campgrounds which hosts Camp-California.com, the travel planning website. For more information on Flying Flags, please visit https://highwaywestvacations.com/properties/flyingflags.