Northern Arizona campgrounds report another strong summer and expect it to continue into fall
by Jeff Crider —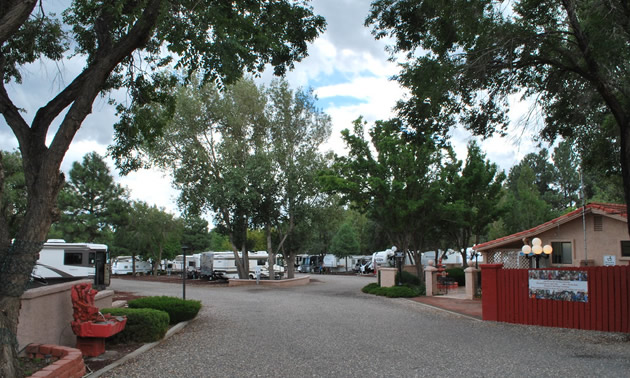 Campgrounds across Northern Arizona have experienced another busy summer and many expect high occupancies to continue well into September and October.
"This has been another great summer for Northern Arizona's tourism business," said Jo Ann Mickelson, executive director of the Arizona Association of RV Parks and Campgrounds, which hosts GoCampingInArizona.com, the statewide travel planning website. Mickelson bases her comments on information she has received from other Arizona park owners as well as her personal experience at J & H RV Park in Flagstaff, which she co-owns and operates with her husband, Harvey.
J & H RV Park's year-to-date business levels are just slightly below last year's figures, which were the strongest in the park's 37-year-history.
"We've been busy," Mickelson said, adding that September is also proving to be exceptionally busy so far. "There are so many RVs and people up here. It's looking very promising," she said. Clint Bell, whose family owns and operates the Flagstaff KOA as well as the Circle Pines KOA and the Grand Canyon / Williams KOA in Williams, said his parks' business levels were "on par with last year's performance, which means traffic is strong in Northern Arizona."
Some RV parks said their overnight traffic had increased, including Meteor Crater RV Park in Winslow, which saw its overnight business rise as a result of the installation of a new 4-D experience attraction at Meteor Crater called "Collision," which features a theater with moving chairs and other special effects. While Labor Day weekend marks the end of the traditional summer camping season, Northern Arizona campground and RV park operators say they expect their business to remain strong for several more weeks, partly because of special annual events taking place in Northern Arizona and New Mexico.
Paula Hamby, who co-owns and operates the OK RV Park in Holbrook with her husband, Mike, said September and October are typically among her busiest months of the year because of travelers crossing northern Arizona enroute to the annual Albuquerque International Balloon Fiesta, slated for October 5-13. Holbrook was also the site of the 88th annual Navajo County Fair & Rodeo, September 11-14, which drew large numbers of attendees. Snowbirds also return to the Southern deserts in the fall, which brings additional business to her park, she said.
While OK RV Park is not a destination park, it offers 75 overnight campsites for overnight travelers and provides referral assistance to RVers who need help with repairs to their vehicles while making cross country trips, Hamby said.
"We are getting full for October. We still have sites available. But it's getting busy," Hamby said, adding that more and more travelers are using her park as a base camp to explore Northern Arizona. "We have had more and more people that want to stay a week or a month. They want to really cover the area. They like our monthly prices," she said.
Hamby's guests this month included travelers on a Rotel bus tour. Rotel buses are custom-built buses that function like mini hotels with beds for 20 or more guests. Rotel bus tours provide their own chefs and have the equipment needed to prepare food for their guests.
For more information on these and other campgrounds in Arizona, please visit GoCampingInArizona.com, the travel planning website which is hosted by the Arizona Association of RV Parks and Campgrounds. The association also publishes the Arizona RV and Camping Guide, which features more than 90 campgrounds, RV parks and resorts across the Grand Canyon State. Consumers can request the guide by emailing [email protected].