California's privately owned campgrounds surprising their guests with gourmet food selections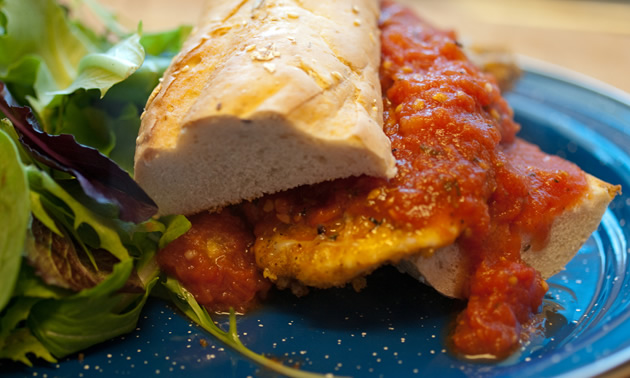 AUBURN, Calif., April 17, 2017 — California's privately owned campgrounds are gaining notoriety for their onsite activities and entertainment as well as their rental accommodations for those who don't have a tent or RV.
But some campgrounds and RV resorts are also surprising their guests with yet another enticement: delicious breakfasts, lunches and dinners.
"Depending on where you go, you can find campgrounds and RV resorts that serve everything from pancakes to prime rib," said Debbie Sipe, executive director of the California Association of RV Parks and Campgrounds, which hosts www.Camp-California.com.
The mobile friendly travel planning website has a search function that allows consumers to search for campgrounds, RV parks and resorts with everything from snack bars to full service restaurants. Private parks usually tout their special food offerings on their websites.
Kamp Klamath in extreme northwest California is a case in point. Every Saturday from the weekend before Memorial Day weekend to Labor Day weekend the park serves all you can eat barbecued salmon dinners on a redwood deck overlooking a meadow. But this is no ordinary salmon.
"It's Chinook salmon that's caught fresh from the Klamath River," said Aaron Funk, the longtime owner of Kamp Klamath, who proudly notes that Martha Stewart once said the best salmon she ever tasted came from Klamath River.
But Kamp Klamath doesn't stop there. The salmon is served along with a stir fry vegetable jubilee and a garden salad with three different types of lettuce, tomatoes, green onions and radishes, all of which are grown in the campground's 2,400 square foot organic garden.
"It's all you can eat, buffet style," Funk said, adding that barbecued chicken is also available for those who prefer it.
"We also have live music with a three or four piece band every Saturday night," Funk said.
For dessert, the campground serves marshmallows, freshly roasted over a bonfire.
Here's a sampling of the food services offered by several of California's privately owned and operated campgrounds, RV parks and resorts:
Bakersfield RV Resort in Bakersfield
This park is home to the Crest Bar & Grill, which has a widely varied breakfast, lunch and dinner menu that ranges from build your own omelets to hamburgers, fried calamari, coconut shrimp, salmon salads, Caesar salads to heartier dishes such as chicken marsala, pan seared blackened salmon, filet mignon, top sirloin and New York strip steak. Dessert dishes include homemade peach cobbler. www.bakrv.com
Casa de Fruta RV Park in Hollister
This park is home to the Casa de Fruta restaurant, which celebrates its 50th anniversary this year. It started off as a 104-seat restaurant and has grown to 240 seats, becoming a popular stop for travelers heading across California. It's open 24/7 every day including Christmas and Thanksgiving. Specialties include prime rib, which is served every day. Breakfast dishes include tri tip and eggs, Eggs Benedict and a chorizo scramble. Lunch and dinner items include hot turkey sandwiches, slow roasted pot roast and lasagna as well as ribeye steaks and Kobe steak burgers. Dessert items include homemade apple, berry, cherry, peach and apricot pies as well as cream pies. www.casadefruta.com
French Camp RV Park Resort in Manteca
This park has a restaurant and sports bar that serves American style breakfasts, lunches and dinners as well as a "Taco Tuesday" Mexican style menu. www.frenchcamp.com
Lassen RV Resort in McArthur
This remote Fall River Valley campground is planning to open a 24-seat bistro on Memorial Day weekend that will feature gourmet fusion type foods with flavors inspired by cuisines around the world. "A sample food item, for instance, will be a Vietnamese inspired sandwich — Bahn Mi with local meat, organic veggies, and avocado mayonnaise. Or an Irish Stew made with our local grass fed sirloin simmered in Guinness beer," said park co-owner Phillip Martin, who is opening the restaurant with his wife, Jasmin. "We will also have a grilled sandwich made with all organic ingredients — almond butter, a hazelnut chocolate spread, like Nutella but organic and not as sweet, bananas and blueberries. We also will have burgers, grilled cheese sandwiches and hotdogs, but all will have a gourmet touch to it!" www.lassenrvresort.com
Newport Dunes Waterfront Resort and Marina in Newport Beach
This 382-site RV resort features the Back Bay Bistro, which serves everything from fresh local seafood, steaks and prime rib as well as hamburgers and salads. The bistro has been recognized as being one of the top 10 Sunday brunch locations in Orange County. www.newportdunes.com
Palm Springs Oasis RV Resort in Cathedral City
Guests at this 140-site park, owned and operated by Equity LifeStyle Properties (ELS), can enjoy delicious meals, appetizers and live entertainment at AJ's on the Green, a full service restaurant which is located on next to the resort at Date Palm Country Club, another ELS property. Menu items range from gourmet Sunday brunch items, such as an omelet with arugula, goat cheese and oven roasted tomatoes, to Angus Beef and lamb sliders to prime rib, salmon and duck. AJ's has won numerous "Best of the Valley" awards from readers of The Desert Sun, the local newspaper in Palm Springs. https://www.rvonthego.com/california/palm-springs- oasis-rv- resort/
Pio Pico RV Resort & Campground in Jamul
Amenities at this park include the Coyote Canyon Cafe, which features an American menu with everything from pancakes, biscuits and gravy to meatloaf and large steaks. https://www.thousandtrails.com/california/pio-pico- rv-resort- campground/
To find more restaurants at campgrounds, RV parks and resorts across California, please visit www.Camp-California.com.