Fall activities at California campgrounds include Oktoberfests and Dia De Los Muertos paint parties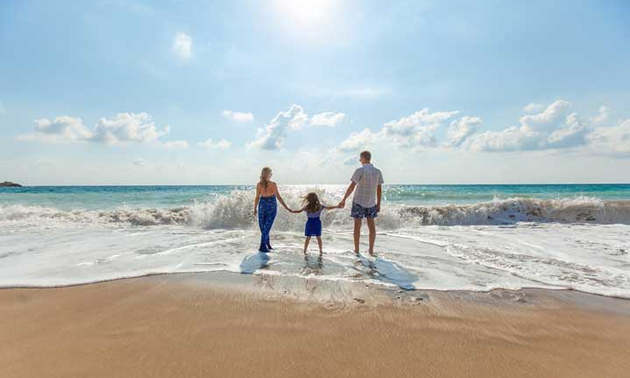 Fall is quickly coming to California, and campgrounds across the state are celebrating the occasion with everything from Hawaiian-style luaus to Oktoberfests to Dia de los Muertos- and Halloween-themed weekends.
"These activities are great fun as we enjoy the change of seasons in California," said Dyana Kelley, president of CampCalNOW RV Park and Campground Alliance, which hosts Camp-California.com, the travel planning website for camping enthusiasts.
"Even as we head into the shoulder season," Kelley added, "many of California's privately owned campgrounds continue to offer a wide variety of fun family activities, such as pet talent shows and Halloween themed activities as well special activities for adults, such as chili cookoffs, luaus and Oktoberfest-themed dinners with live entertainment."
Here is a sampling of activities and entertainment taking place at several campgrounds across California in the coming weeks:
Campland on the Bay in San Diego: This campground, which borders Mission Bay, has numerous scheduled activities throughout the fall, including games of capture the flag, dodgeball and pickleball. The park also has arts and crafts classes, tie-dye T-shirt classes, kayaking classes and adult dart tournaments. Various types of watercraft are also available for rent, including catamarans, jet skis, aqua cycles, pedal boats and kayaks. RVs can also be rented and set up on site in advance of your arrival. Tent camping sites are also available.
Frandy Park in Kernville: From September 26 - 29 this campground will host the Kern River Rock N Blues Festival with live bands Friday and Saturday. This campground is also planning its first Vintage Trailer Rally, called the Kern River Rockabilly Trailer Rally, October 12-13. It will include a trailer show, a rockabilly fashion show and live music from 5 to 8 p.m. on Saturday. Flea market Saturdays are also planned, with the next one being set for November 2.
Jellystone Park Camp-Resort in Lodi: This park will have a non-spooky Halloween-themed weekend September 27 - 29 with a magic pumpkin patch as well as a costume contest, trick-or-treating, and a parade with the Yogi Bear characters. Traditional Halloween-style activities will take place all four weekends of October with a Halloween costume parade, costume contests, pumpkin carving contests, campsite decorating contests, trick-or-treating, and a haunted trail.
Lake Minden RV Resort in Nicolaus: This 212-site Sacramento Valley park will have a pet-themed weekend September 13-15, including a pet fashion show and beauty contest and a pet talent show. There will also be pet-themed arts and crafts and a pet scavenger hunt and RC boat races. The weekend of October 11-13 will feature fall crafts, such as Halloween decorations, as well as a craft fair and a ghosts and goblins scavenger hunt. The weekend of October 25-27 will include wicked crafts, a scared silly movie marathon, parking lot trick or treating and a campsite decorating contest. This park has RV sites as well as rental accommodations.
Lake of the Springs RV Resort in Oregon House: Fall activities at this 556-site campground include a Halloween-themed weekend on October 26 with a fishing derby, a pumpkin carving contest and a campsite decorating contest. There will also be "trunk or treating," as well as a family dance and costume contest. The campground is located on 950 acres and includes a private 120-acre lake, RV and tent sites and rental accommodations.
Newport Dunes Waterfront Resort & Marina in Newport Beach: This resort is planning a luau on the evening of September 13 with traditional island entertainment, including male Kane dancers, firethrowers and female hula dancers. There will also be a Samoan pig ceremony and a Hawaiian style dinner will be served. This park also offers bicycle, golf cart, kayak and sailboat rentals in addition to guided kayak nature tours and kayak and sailboat lessons. Resort accommodations include 24 park model cottages and 382 RV sites as well as a full-service restaurant, the Back Bay Bistro, which offers breakfast, lunch, dinner and Sunday brunch with menu options ranging from local seafood to meat dishes.
Pio Pico RV Resort & Campground in Jamul: A Bavarian-themed weekend is set for October 12 with brats, beer, dancing, a live DJ, games, and an alpine photo booth. A Halloween themed weekend is set for October 26 with pumpkin carving, a costume party for kids, trick or treating and Halloween-themed movies and crafts. This park has 532 RV and tent sites as well as cabin rentals.
Rancho Oso RV Resort in the mountains between Santa Barbara and Solvang: Guests at this park can watch stock dogs herding sheep and cattle every Saturday from 11 a.m. to noon. The park also offers a bucking bull demo with "baby" bulls that are being prepared for future work in rodeos. On October 26, the resort will have pumpkin painting and trick or treating. The resort's accommodations include five rental cabins, plus several covered wagons, which are arranged in a circle around a campfire pit.
Russian River RV Campground in Cloverdale: This park's fall activities include a Halloween themed games, a costume contest and a campsite decorating contest on October 25-26 with prizes for the best decorations. The park has 125 RV and tent sites as well as rental accommodations.
San Benito RV & Camping Resort in Paicines: This 596-site park plans to celebrate Dia de los Muertos (Day of the Dead) on October 26. A bonfire is planned. The park's annual "Trunk or Treat" event takes place on Halloween.
San Diego Metro KOA in Chula Vista: This campground, which features RV and tent sites, rental accommodations, and an onsite restaurant, is planning "Fall Festival" weekends throughout October. Activities include a pumpkin patch and pumpkin carving; people and pet parades; face painting; carnivals; Dia de los Muertos paint parties; and dance parties with live music. The park also features a rock climbing wall.
Smithwoods RV Park in Felton: This park plans to host a Halloween spaghetti dinner with Halloween related activities and a spaghetti dinner on the Saturday before Halloween.
Temecula/Vail Lake KOA in Temecula: Halloween themed weekends are already sold out every weekend in October at this 467-site park. However, the park is considering adding a fifth Halloween-themed weekend next year. Halloween-themed weekends at this campground include an inflatable obstacle course with slides, pumping carving, pets and people costume parades, a full haunted house, and a live zombie hunt.
Thousand Trails Las Vegas RV Resort in Las Vegas: This 205-site park will have a Halloween themed RV decorating contest with prizes on October 31. The park includes RV sites and rental accommodations.
Ventura Ranch KOA in Santa Paula: This campground, which features RV and tent sites as well as furnished cabins, tipis and safari tents, has a variety of onsite activities, including nighttime Bigfoot adventure walks, zipline tours, a jumping pillow and a rock climbing wall.
Wilderness Lakes RV Resort in Menifee: This 523-site park is planning to have its annual chili cooking competition September 14. Plans are also underway to celebrate Oktoberfest October 10-12 with a bratwurst dinner, German beer tasting and root beer for the kids. The park will have a Halloween themed weekend October 25-27 with a haunted house, a haunted train ride, pumpkin decorating, a costume contest for all ages, trick or treating and Karaoke. The park will celebrate Veterans Day weekend, November 9-10 with a bicycle and golf cart parade, a family movie and free cupcakes for past and present military personnel during the Sunday ice cream social. The park includes RV and tent sites and rental accommodations.
Yosemite Lakes RV Resort in Groveland: This 134-site park will celebrate Oktoberfest September 20-23 with local beers and wines to sample for adults, while kids can enjoy fall crafts and activities. The park will celebrate Halloween October 25 with spooky crafts, scary movies and a campfire. The campground has RV and tent sites as well as rental accommodations, including furnished cabins and yurts.
CampCalNOW RV Park and Campground Alliance is the Auburn, Calif.-based trade association for the private campground industry in California. In addition to hosting Camp-California.com, the association publishes Camp-California! The Camper's Guide to California, a travel planning resource that includes descriptive write-ups, locator maps and information on 17 different types of amenities in campgrounds across the state. For more information on campgrounds, RV parks and resorts in California, visit www.Camp-California.com.