New exhibit explores the scientific discoveries of ice age Yukon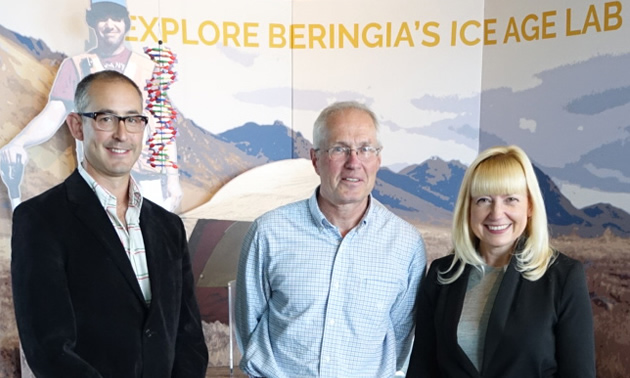 WHITEHORSE—The Yukon Beringia Interpretive Centre has launched a new exhibit, Beringia's Ice Age Laboratory, that highlights the work of scientists researching ice age Yukon.
"Scientists are constantly making new discoveries and providing new insight into the fascinating story of Beringia and the incredible animals and people who lived during Yukon's ice age past," Minister of Tourism and Culture Elaine Taylor said. "Beringia's Ice Age Laboratory is an interactive, informative exhibit that acknowledges the important contribution that scientists make in unravelling the mysteries of ice age Yukon."
Featuring interactive and multimedia elements as well as a large panel display, the exhibit covers historic research and current, cutting-edge scientific exploration – including research conducted by the Government of Yukon's paleontologist and archaeologists plus scientists from Yukon College and other institutions outside the territory.
The exhibit is part of a larger exhibit renewal project at the Yukon Beringia Interpretive Centre which will take place over several years. The first year of this project included a refresh and cleaning of the Bluefish Caves exhibit, a large diorama that provides glimpses into the lives of ice age people in Yukon. The Bluefish Caves are located 30 kilometres southwest of Old Crow and comprise one of the oldest archaeological sites in North America.
"The new exhibit is an opportunity for the Yukon Beringia Interpretive Centre to present historic and current research in an innovative way," Taylor added. "Under the renewal project, existing exhibits are assessed, cleaned and repaired so the public can continue to enjoy and learn from them."
The recent launch also coincided with Yukon's birthday. June 13, 1898 was the date when Canadian parliamentarians voted into law the original Yukon Territory Act, and Yukon became a separate political entity. The Yukon Beringia Interpretive Centre celebrated the occasion by offering free admission to visitors all day.