A new twist on camping: Three California campgrounds now offer pioneer-style covered wagon rentals
by Jeff Crider —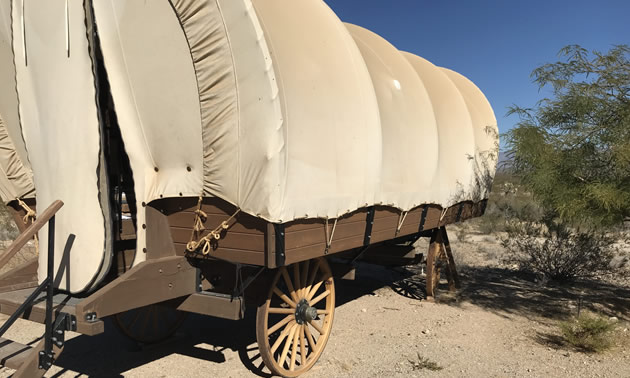 Several California campgrounds transport their guests as far back as the late 1940s and 1950s with iconic Airstream and other vintage trailer rentals.
But Frandy Park Campground in Kernville takes its guests even further back in time — to the days of the Western migration with pioneer-style covered wagons!
"We think it's the most unique camping experience a family can have," said Beverly DeMetriff, general manager of the 92-site campground, which gives its guests the opportunity to have the wagons set up on a campsite of their choice, including campsites along the Kern River that are shaded by beautifully mature cottonwood trees.
Each covered wagon is comfortably furnished with a king size bed and two sets of bunk beds for a maximum sleeping capacity of six. The wagons also come equipped with LED lighting, air-conditioning and heating, provided they are set up on a campsite with electrical hookups. Frandy Park Campground isn't the only one campground in California to offer covered wagon rentals.
Rancho Oso RV Resort, which is in the Santa Ynez Mountains between Santa Barbara and Solvang, has several covered wagon rentals set up under oak trees and arranged in circles around campfire pits, just like pioneers would camp in the 1800s.
The covered wagons at Rancho Oso are quite rustic, too. Each is equipped with four army cots for sleeping, so guests need to bring their sleeping bags. Electrical outlets and barbecue areas area also provided.
Yosemite Pines RV Resort and Campground in Groveland, just outside the western entrance to Yosemite National Park, installed covered wagons last year, which sleep 4 to 6 guests. They come equipped with a king size bed and two twin size bunk beds. The units also have an under-counter refrigerator, a microwave, a coffee pot, bed linens and a picnic table.
Frandy Park Campground, Rancho Oso RV Resort and Yosemite Pines RV Resort and Campground are affiliated with the California Association of RV Parks and Campgrounds, which hosts Camp-California.com, the travel planning website. All three parks are featured on Camp-California.com, the association's travel planning website in addition to being listed in its free printed camping guide, Camp-California! The Campers Guide to California, which can be ordered through Camp-California.com. A digital version of the guide is also available on the website.