RV resort operators are investing millions to improve and expand luxury RV resorts in Arizona
by Jeff Crider —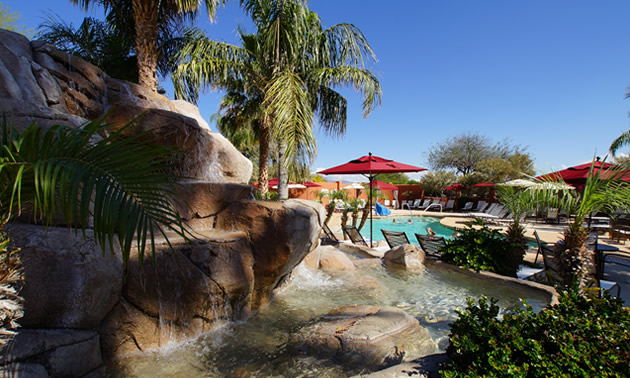 The nation's largest RV resort chains are investing millions of dollars to improve and expand several Arizona parks in preparation for the upcoming winter snowbird season.
"Everybody in the industry is stepping it up," said Scott Roberts, chairman and CEO of Scottsdale-based Roberts Resorts and Roberts Communities, which owns and operates 17 RV resorts and manufactured home communities in Arizona, California, Colorado, Texas and Alabama. Roberts Resorts recently invested more than $1 million in improvements at its 780-site Gold Canyon RV & Golf Resort in Gold Canyon, installing a new swimming pool, patio area, new landscaping and other amenities to modernize the resort, which was originally developed in the late 1980s.
"We added a really cool bistro with fire pits. We put in tall resort-style date palms and wrapped them with lights. It's very resort like," Roberts said, adding, "The resort experience in the 80s is different than the resort experience of 2020. So we've got to step it up." Roberts added that other RV resort companies, including Chicago-based Equity Lifestyle Properties and Southfield, Mich.-based Sun Communities, Inc. are also making major improvements in their Arizona resorts.
"We continually put money back into the properties every year," said Scott Houle, who oversees two Sun Communities resorts in Arizona, including the 2,500-site Palm Creek Golf & RV Resort in Casa Grande and the 283-site Leaf Verde RV Resort in Buckeye, which it acquired last year.
"With Leaf Verde being a new acquisition, we're doing a ton of upgrades," Houle said. "Most of the guests when they return won't recognize the registration area. We're in the middle of our capital expansion projects, trying to get them completed before the snowbirds come back."
Other improvements at Leaf Verde that are expected to be completed before the upcoming snowbird season include the installation of a new playground and dog park. All of the park's buildings are also being repainted and new landscaping is being installed. The pickleball courts have also been fully resurfaced.
Improvements have also been underway at Palm Creek, which recently added 300 sites, including 150 60-foot-long RV sites. Other improvements include the installation of new pool decking at the resort's main swimming pool and the addition of a fourth swimming pool, called the Cottonwood Pool, which was completed last year. A new 2,000 square foot building has also been constructed in the northeast corner of the resort that can serve as a clubhouse or activity center for rallies and other large groups. The park's softball field has also been renovated.
Equity LifeStyle Properties, for its part, is also investing in major improvements at its Arizona resorts in preparation for the upcoming winter season, including:
Araby Acres RV Resort in Yuma, which is being decked out with new pool furniture, a resurfaced spa, and newly resurfaced streets throughout the resort.
Golden Sun RV Resort in Apache Junction, whose improvements include a newly refurbished ballroom, an upgraded billiards room, and a new HVAC system.
Monte Vista RV Resort in Mesa, which is completing a new section of the resort with 237 RV sites, a new check-in office as well as a new pool area with outdoor seating and grilling stations, laundry facilities, a welcome center entertainment lounge and a brand new woodshop.
Verde Valley RV & Camping Resort in Cottonwood, which is adding 62 sites.
Viewpoint RV Resort in Mesa, which is adding 200 manufactured home sites. The park has also resurfaced its existing pickleball and tennis courts and added two new pickleball courts last year. Other improvements include new barbecues and shaded outdoor seating areas.
Voyager RV Resort in Tucson, which is renovating its 36-room hotel in preparation for the upcoming winter season. "It's mostly cosmetic improvements," said Geoffrey Campbell, Voyager's general manager. "We're modernizing the rooms with new furnitures, fixtures and equipment." The hotel rooms are typically used by guests of residents staying at Voyager during the winter months. "We expect to have the renovations competed by November 1st," Campbell said.
Voyager RV Resort has also been making many improvements in recent years, adding more pickleball courts and more dog runs while also improving its electrical system and installing a new decorative fountain for the golf course.
"We have also expanded a lot of our clubs, like the woodshop," Campbell said, noting, "There's always demand for more space."
Voyager RV Resort also continues to improve its onsite musical entertainment, with bands performing inside a large theater that seats well over 800 people.
"Our concert series for the 2020 winter season is already sold out," Cambell said, adding that several performers have been scheduled who use their talents to pay tribute to a wide variety of performers, including John Denver, Johnny Cash, Linda Rondstadt, Neil Diamond and Peter, Paul and Mary. Jazz performers are also included in the mix. "We want to make sure we offer entertainment that's diverse," Campbell said.
As one might expect, all of these RV resort improvements are having a positive effect on Arizona's economy, while heightening demand for RV and manufactured home sites during the winter season.
"We're totally booked," Roberts said, referencing advance winter reservations for Gold Country RV & Golf Resort. "We have a waiting list for January, February and March."
Some Arizona snowbird resorts are also posting waiting lists applications on their websites.
Jo Ann Mickelson, co-executive director of the Arizona Association of RV Parks and Campgrounds, said the investments in improvements by Arizona RV resort operators are improving the state's attractiveness and strengthening its tourism economy. "The more resort operators invest to improve their parks, the more popular Arizona will be become as a snowbird destination," she said.
For more information on campgrounds and RV resorts in Arizona, please visit GoCampingInArizona.com, the travel planning website which is hosted by the Arizona Association of RV Parks and Campgrounds. The association also publishes the Arizona RV and Camping Guide, which features more than 90 campgrounds, RV parks and resorts across the Grand Canyon State. Consumers can request the guide by emailing [email protected].