A heavy snowpack means California's waterfalls will be flowing this spring and early summer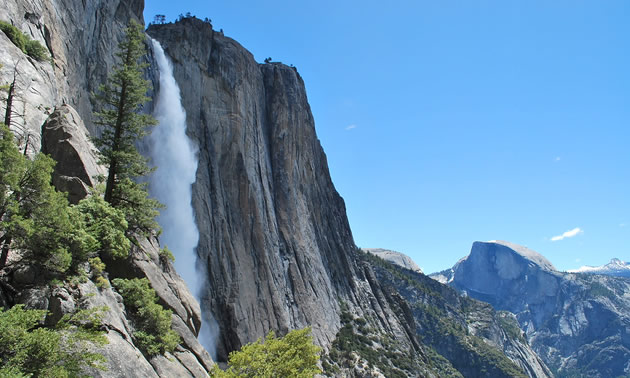 AUBURN, Calif., February 2019 — The recent series of winter storms have brought several feet of snow to the Sierra and other mountain ranges across California, ensuring there will be plenty of waterfalls come spring.
"Every mountain region of California is getting snow this winter, and the more storms we get, the more waterfalls we'll see this spring and early summer," said Debbie Sipe, CEO of www.Camp-California.com, a travel planning website featuring more than 300 campgrounds.
And while the wet winter weather is good news for California's ski resorts, it's also good news for campgrounds, many of which are located close to scenic waterfalls that will be at their peak in spring and early summer.
"Everybody thinks of Yosemite when they think of waterfalls, but there are actually more than 100 breathtaking waterfalls throughout California, many of which are accessible by taking short hiking trails," Sipe said.
One great resource to find waterfalls is www.World-Of-Waterfalls.com, which provides detailed information and photos of California's waterfalls as well as directions on how to get there.
"Visit the World of Waterfalls website first to find waterfalls of interest to you, then check Camp-California.com to see which campgrounds are nearby," Sipe said, adding that many campgrounds have rental accommodations if you don't have a tent or RV.
Here's a sampling of exceptional waterfalls that are a short driving distance from campgrounds in several different areas of California:
Alamere Falls: Considered one of the most beautiful waterfalls along the Northern California coast, Alamere Falls is located in Point Reyes National Seashore. It cascades over a cliff onto a beach and then runs into the ocean. It can be accessed via the Palomarin Trailhead at the southern end of Point Reyes. Nearby campgrounds include:
Burney Falls: Located inside McArthur Burney Falls Memorial State Park, Burney Falls is considered to be among the most scenic in the state. Nearby campgrounds include:
Feather Falls: One of the tallest waterfalls outside of Yosemite, Feather Falls is a 410-foot waterfall in the mountains roughly 40 minutes east of Oroville. Campgrounds to consider as base camps include:
Riffle's RV Park & Campground in Oroville, which has RV and tent sites.
McCloud Falls: This is really a series of three waterfalls on the McCloud River. Nearby campgrounds include:
Friday's RV Retreat, which includes RV and tent sites and cabins. The campground opens in April. www.fridaysrvretreat.com
Rainbow Falls: This 100-foot waterfall is located on the Middle Fork of the San Joaquin River in Devils Postpile National Park, in the eastern Sierra near Mammoth Lakes. Park opens in mid-June. Nearby campgrounds include:
Mammoth RV Park in Mammoth Lakes: This campground has RV and tent sites as well as two rustic cabins. Other amenities include restrooms with hot showers and an indoor swimming pool and Jacuzzi. www.mammothrv.com
Tahquitz Falls: This beautiful 50-foot waterfall is flowing right now. The waterfall is hidden in a beautiful canyon on the Agua Caliente Indian Reservation near the south end of Palm Springs. Nearby campgrouds include:
Waterfalls at Big Basin Redwoods State Park. This park, which is located in the greater Santa Cruz area, includes 70-foot Berry Creek Falls, Silver Falls and Golden Cascade. Nearby campgrounds include:
Waterfalls in the Big Sur area: There are 13 waterfalls in the Big Sur area, including McWayne Falls, an 80-foot waterfall that plunges from a forested cliff onto the beach below. The fall is located in Julia Pfeiffer Burns State Park and can be seen from State Route 1. Other noteworthy waterfalls in the area include Limekiln Falls in Limekiln State Park and Salmon Creek Falls, which is really a pair of 100-foot waterfalls that join together as they plunge. Nearby campgrounds include:
Big Sur Campgrounds and Cabins in Big Sur, which includes RV and tent sites and rental cabins. www.bigsurcamp.com
Fernwood Resort in Big Sur, which includes RV and tent sites as well as furnished "Adventure Tents." www.fernwoodbigsur.com
Waterfalls in San Diego County: One of the county's most spectacular waterfalls is Cedar Creek Falls near the picturesque mountain town of Julian, which has several campgrounds close by, including:
Pinezanita RV Park and Campgrounds, which has RV and tent sites as well as rental accommodations. www.pinezanita.com
Of course, if you have your heart set on seeing Yosemite's waterfalls and can't get a reservation, take heart. There are several privately owned and operated campgrounds just outside the park, including:
Yosemite Pines RV Resort & Family Lodging, which features RV and tent sites as well as furnished cabins, yurts and retro trailer rentals. www.yosemitepinesrv.com
Yosemite Lakes RV Resort in Groveland. This campground is situated inside a 400 acre preserve five miles from the western entrance to Yosemite National Park. The campground includes RV and tent sites as well as cabin and yurt rentals. The South Fork of the Tuolumne River runs through the preserve. http://www.rvonthego.com/california/yosemite-lakes-rv-resort/
For more information on trip planning ideas and campgrounds across California, please visit Camp-California.com