RV accessories you shouldn't go without
by Boyde McMakin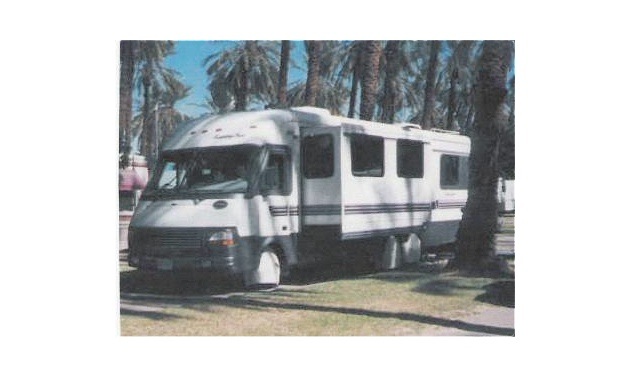 The time has finally come and life has reached that point where RVing is an option. There are so many great places to go and things to see that people sometimes find it difficult to narrow down the options. Imagine travelling at your leisure to the places you only dreamed about without the gloom of airfare pricing, hotel and dining costs—and then finding transportation once you arrive.
RVs allow you to experience new places all while still enjoying the comforts of home. Well, maybe not "all." You can only fit so much. That's why it's important to plan ahead and make sure you have all the amenities you just can't live without.
Vacationing in style (with much less stress)
There are so many great things about travelling the country in an RV. You always have the basic comforts of home, like beds, couches and refrigerators (in some cases these can be even more efficient than your own home appliances). In an RV, you can wake up in a new place every morning (or not) without the hassle of hotel fares, luggage and taxi cab hailing.
Owning an RV is great for families as well. Aside from the obvious cost benefit in the long run, there is also great opportunity to bond as a family. Worried about finding a room big enough for your whole family in a packed hotel? Not when you travel in an RV. Concerned that your kids will fill up on unhealthy fast food? Not when you have an entire trip's worth of healthy dinners in the refrigerator.
Pre-trip preparation
Making sure your RV is equipped with all of the necessary amenities and that they are all running correctly before you head out can be a bit daunting. So assuming the basics are all accounted for (beds, refrigerators, TVs, etc.), you might consider some of the following items.
Power cord adapters:
Make sure that you always have one of these, because there are always times when you pull into a campsite and the hookups won't be compatible with your cords. The last thing you want is to have a great family game night with no lights.
Levelling blocks:
We often end up packing more than we need, which can cause interesting problems with the RV's weight distribution. Add to that a bumpy campsite or one that isn't very level and your evenings can become extremely difficult. Levelling blocks are an RV accessory that can fix this in a jiffy. They even come in bright colors to get your attention before you drive off without them at the end of your stay.
Camping lounge chairs:
Honestly, when the weather is good, there's nothing like spending time outside your RV. Don't get me wrong, there's nothing like holing up in your RV when a surprise rain storm hits, where you can play board games and enjoy some snacks with the family. But there's something about relaxing just outside the door of your RV on a camping lounge chair in the shade. You can quickly move your chairs to the most desirable locations, and while any chair will technically do the job, a good lounge chair is what you need for that vacation relaxation.
RV awning:
An awning for your RV is one of those amenities that may come with time. They are excellent for those outdoor family meals and playing cards while enjoying the fresh air. Awnings can offer protection from heat as well as the damaging rays of the sun and most models are able to be adjusted based on the sun's location. You can keep the heat of the day out of your RV. Because the last thing you want is quick midday nap ruined by your RV overheating inside.
Nature's beauties come in all forms and not all have trees and shade. With an awning you will be able to enjoy all that nature has to offer—rain, sun or shine.
Water systems:
You need several components to have the best water possible. A water pressure regulator makes your water usage more efficient if it's properly rated for your size and type of RV. If you are just purchasing your RV, consult the dealer about the necessary specs. If you acquired it from a private seller, there are many new and used RV dealers who sell RV parts who are more than willing to help you check these specs before your trip.
Chargers/power sources:
Be sure and bring any chargers you may need for cell phones, devices or even portable DVD players. Though many hope to leave behind the distractions of technology, sometimes having these technologies available can be vital when far from home. It is recommended to make sure the option is still available; whether or not you use them is up to your personal desired camping experience. If it's possible to use these devices as walkie-talkies, it can prove extremely helpful when it comes time to back up into a tight spot at a camp ground.
With that said, many regular RVers don't always find themselves in areas where they can simply hook up to power. In this case a charger won't do anyone any good if there isn't a way to use it. Purchasing a generator would be a recommended action, location aside. There is always a chance of electricity failing or something happening that could render you powerless. Owning your own power source can also give more travel options.
Hitting the road
Before ever heading out on a trip, it is usually a good idea to spend a night in your RV to make sure that you have everything that you need. There are plenty of things like toilet paper and food that you can pick up along the way, but when you know you will need things beforehand it saves you a lot of time and stress on the road.
There are any number of accessories available that will help make your RVing experience one to remember. Start here and build your own list of necessary amenities. It will take some trial and error, but in the end you'll have everything you need to enjoy the entire trip.
Boyde McMakin has been traveling the country with his wife and two kids for the past 14 years. Most of their trips are taken in the family RV, making memories along the way. Boyde works for PPL Motor Homes in Houston, Texas. PPL has one of the largest selections of used RVs for sale in the country and also carries many RV parts and accessories.