2018 Fall Camping Appreciation Weekend - September 7-9, 2018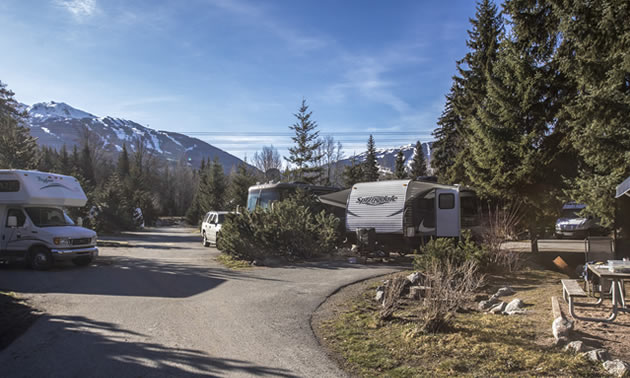 Port Moody, BC. On September 7 - 9, 2018 privately operated campgrounds coast-to-coast are participating in the 2018 Fall Camping Appreciation Weekend to celebrate the camping and RVing lifestyle!
Camping is an affordable family activity that promotes a sense of community, creates lifelong memories and encourages Canadians and International visitors to discover Canada's rich landscape and engage with nature.
The Camping Appreciation Weekend is a new national initiative coordinated by the Canadian Camping and RV Council and supported by the Camping and RVing BC Coalition to say thank you to campers for their patronage over the summer.
Campers can access a special weekend stay offer of two-nights camping for either $50, $60, $70 or $80 at participating campgrounds (Sep 7-8/Fri-Sat). As well as the weekend offer, many campgrounds are offering promotional stays of "Five Nights for the price of Four" around the weekend (check the listing offers).
British Columbia Camping Appreciation Weekend Participants:
Camperland RV Resort, Rosedale BC
Castlegar Golf Club RV Park, Castlegar, BC
Country Maples RV Resort, Chemainus, BC
Eagan Lake Resort, Bridge Lake, BC
Evergreen Fishing Resort, Cache Creek, BC
Fernie RV Resort, Fernie, BC
Fort Camping, Fort Langley, BC
Gallagher Lake - A Parkbridge Camping & RV Resort, Oliver, BC
Heriot Bay Inn & Marina, Quadra Island, BC
Holiday Park Resort, Kelowna, BC
Kettle River RV Park Campground, Rock Creek, BC
Lemon Creek Lodge & Campground, Slocan, BC
Moosehaven Resort, Hathaway Lake, BC
Mountainaire Campground & RV Park, Nanaimo, BC
Oceanside - A Parkbridge Camping & RV Resort, Victoria (Saanichton), BC
Pierre's Point Campground, Salmon Arm, BC
Pinantan Lake Resort, Pinantan Lake, BC
Piper's Glen RV Resort, Fort Fraser, BC
Riverside (Whistler) - A Parkbridge Camping & RV Resort, Whistler, BC
Rondalyn - A Parkbridge Camping & RV Resort, Ladysmith, BC
Salmon Arm Camping Resort, Salmon Arm, BC
SunLund By-The-Sea RV Campground & Cabins, Lund, BC
Sunshine Valley RV Resort, Hope, BC
Wood Lake RV Park & Marina, Lake Country, BC
Woodlands Fishin' Resort, Chilanko Forks, BC
Create Memories .... Go Camping!
About the Camping and RVing British Columbia Coalition
The Camping and RVing BC Coalition was formed in 2008 with the support of Destination British Columbia to better position the provincial camping and RVing experience and to capitalize on the growth of nature-based tourism. Coalition members currently include BC Parks, BC Lodging & Campgrounds Association, Recreation Sites and Trails BC, RV Rental Association of Canada, Thompson Okanagan Tourism Association, Kootenay Rockies Tourism, Tourism Prince George, BC Society of Parks Facility Operators, Parks Canada, Recreation Vehicle Dealers Association of British Columbia and the Freshwater Fisheries Society of BC.