Keep calm and play through!
From par 3's to world-renowned golf courses—Vancouver has golf for everyone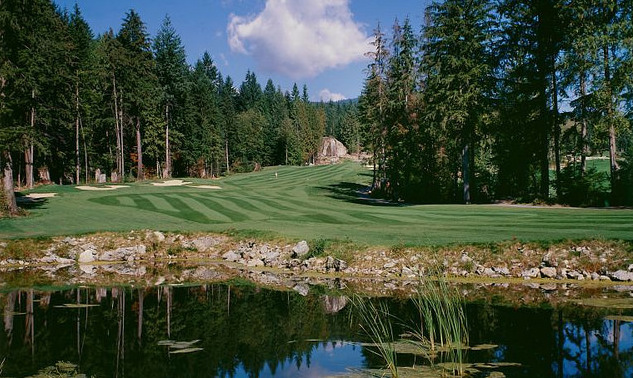 "I've spent most of my life golfing, the rest I've just wasted." - Anonymous
At last! The jacks are set in the RV park after your long trip and the barbecue is heating up for the steaks. All you need to do now is sit back and think about what will be top of your list tomorrow morning.
If you're a golfer travelling around the country course by course and looking forward to tackling a few in the Vancouver area, you will likely want a public course or a club that sets aside at least one day a week for non-member tee times.
There are several to interest golfers of any skill level on Vancouver's North Shore. They range from Pitch & Putt and par 3 courses to nine-hole recreational and 18-hole courses challenging enough for those with PGA/LPGA ambitions.
The District of North Vancouver is home to two highly rated 18-hole courses–Northlands and Seymour–while the nine-hole, par 35 course at West Vancouver's scenic Gleneagles Golf Club is no less challenging.
A closer look at Northlands
One of well over 100 courses designed by Canada's internationally renowned golf architect Les Furber, North Vancouver's publicly-owned Northlands Golf Course was opened in June 1997.
Living up to the designer's philosophy of "playable but challenging," the 18-hole course is 6,504 yards overall. Course ratings vary from 65.2/114 to 71.4/138 depending upon which of the four tee levels you are playing.
"Our signature Hole 4, an uphill dog-leg right monster par 5 with a waterfall feature, is our most challenging hole," said assistant manager Curtis Johnston.
"Honourable mentions go to Hole 10, which has an island green, and No. 15, which is another par 5 with a wide environmental area running through it."
"We are a busy, popular course with great conditions year-round and often have terrific days November through February," he said.
Despite, or perhaps because of, its challenges, Northlands' reputation has attracted players from all over the world–North America, Asia, Europe and South Africa.
Johnston said many film celebrities like Samuel L. Jackson of Snakes on a Plane fame love to play the course when they're in town shooting films in "Hollywood North."
Most important for local golfing enthusiasts is that North Vancouver's own 25-year-old Eugene Wong http://www.eugenewonggolf.com/ still practises on his home course when he takes a break from trying to make the cut on PGA tours.
Last but not least–where would a popular course be without a great 19th hole?
Whether or not you have played the course, Northlands' Bar & Grill menus are on a par with the best year round because, as Johnston says, "Our patio is hard to beat during the summer months with its panoramic view of the first and 18th holes, the waterfall and across the water to Vancouver."
That sure sounds like a great destination for visiting RVers.