7 tips for setting up your RV for a long-term visit
How to set up your RV campsite for practicality and comfort during a long-term resort stay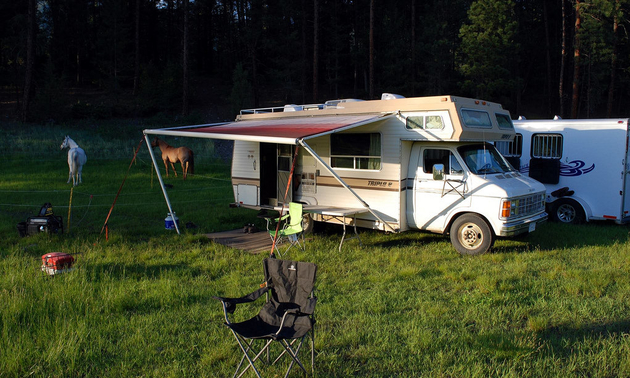 If you're about to park your RV for long-term living, you might want to consider a taking a little extra time to set up your campsite. Don't you want to live comfortably if you're going to stay put for a while? Here's our advice on how to set up your RV campsite for a long-term visit.
1. Check your RV tires
You should always check your tires before hitting the pavement, but check the air levels again when you're setting up camp too. Tires can lose pressure quickly, especially if they are older.
When you park your rig for an extended stay, use wood levelling blocks to keep your RV in place. Choose blocks that are larger than the width of your tire, so the edges don't hang off the block.
Not only does this step help keep things in place, it also helps with levelling a little bit where your stabilizers might lack. The wood will also protect your tires from the elements, like extreme cold or heat on asphalt or the ground.
Finally, cover your tires while they are parked to protect them from sunlight and extend their lifespan.
2. Check your fuel levels
Even if you'll be living on the grid, you should check your fuel levels. Your water heater probably needs propane to perform even on the grid. Your generator and engine should be run regularly as well to ensure everything is working properly. Consider adding a fuel stabilizer to your engine and generator to increase time between checks.
No fuel? No problem! Lots of campers are switching to sustainable energy sources these days. Solar panels are a popular addition to traditional RVs. Many can be purchased at regular retail stores. These are great backups to recharge your batteries without relying on the grid.
3. Check your batteries
Speaking of batteries, check those levels regularly. Even on-the-grid extended stays might require a bit of extra juice. Plus, it's always good to be prepared. If you're new to RVing, it's good to always know what kind of batteries you use and how to replenish their stores as necessary. You never know when a power outage could get in the way.
4. Don't forget your motorhome's engine oil
This point is mostly for motorhome owners—remember to check your engine oil and oil filters before long-term stays. You likely won't run your motorhome engine until it's time to leave, but dirty oil can quietly corrode your engine.
5. Level and stabilize your trailer
This is where those stabilizers come in handy. Your trailer needs to be level not only for your own comfort but to ensure that all the components of your home on wheels function properly. Fuel levels, refrigeration and other technical aspects can be thrown off if your trailer isn't level.
Stabilizers also help level your trailer as it settles throughout your stay. Just adjust them as necessary.
By now, your RV should be ready to stay for a while in terms of the technical set-up. Now you can make your campsite feel like home.
6. Set up your outdoor space
Roll out the mats, tarps, tables and chairs. Some RVers prefer pop-up screen tents over their trailer's extendable awning to act as the covered outdoor space—there are fewer bugs to deal with this way. Evaluate your campsite to decide which spots are better for the firepit or the dining area. Look at how the trees hang and where the sun hits, then have fun.
7. Set up your indoor space
Time to get comfy. No need to keep everything strapped into place when you're settling into your campsite for a while. Unpack any loose ends that make your RV really feel like home.
Did we miss anything? What are your must-dos when it comes to setting up your campsite for a long-term stay? We'd love to hear from you.