Join Harvest Hosts and you can go camping for free at one of 1,020 popular tourist sites
Membership with Harvest Hosts brings no-charge camping at over 1,020 sites across North America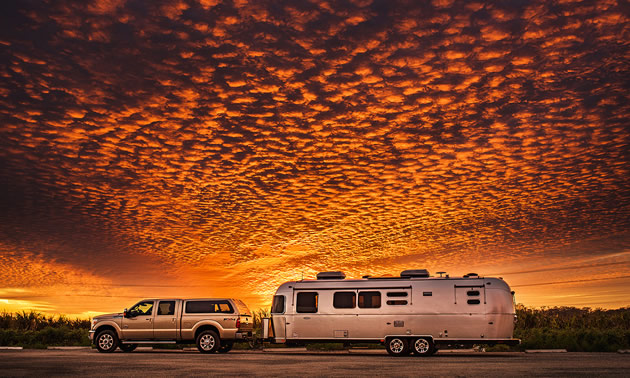 Joel Holland liked the concept of Harvest Hosts so much he bought the company. Holland is a tech guy, and Harvest Hosts' platform runs on technology that connects hosts and users.
Harvest Hosts is a people-rich tech platform that connects RVers like you with a collection of interesting people, places and products. Join by purchasing low-cost annual membership and get free access to over 720 locations comprised of wineries, breweries, market gardens and farms spread out across Canada and the U.S. The golf-plus membership adds 300 golf courses as potential stays, bringing the total options to over 1,020.
These places aren't RV parks. They are locations that hospitable owners and operators make available to Harvest Hosts guests. You will be buying wine anyway, so why not become a Harvest Hosts subscriber and stay overnight at the winery for no charge? Connect with local experts at the Harvest Hosts destinations who can highlight the best local sights and experiences, and provide samples of locally produced foods and beverages made from vegetables, fruit, grapes or malt barley.
With the golf-plus membership, you can put together your own golf tour and stay at golf courses for no charge.
Blissful boondocking
The only catch–if you can call it that–is these destinations are boondocking experiences. There is no power, water, or sewer so RVers need to prepare for being independent of services. And these are one-night stays, perfect for an extended road trip or as stop-offs toward your final destination.
Keven Ann Willey, with her husband, chef Georges Badoux, travelled a year in their 17-foot Casita trailer. Their blog, "Postcards from the Perimeter: A Year on the Edges of America," describes their first-hand experience with Harvest Hosts when they added in a collection of winery stays on a recent tour. Keven and Georges aren't the kind of campers that make reservations months in advance. Harvest Hosts accommodates their orientation to making travel decisions day to day.
Here is what Keven had to say about their experience with Harvest Hosts:
"HH (Harvest Hosts) is for comfort campers and RVers who enjoy discovery and people. We've learned something new or enjoyed a novel experience at each of the wineries and farms we've visited. And the people–both the hosts and the other visitors–are fascinating. We've especially enjoyed meeting people through HH who are living their dream–whether as wine-makers, vignerons or slow-food organic farmers.
"HH is not for people who want routine, wait service or utility hook-ups. If you crave a recliner and a football game, go to an RV park. Harvest Hosts ranges from commercial establishments with live music and paved parking lots to remote vineyards and farms down dirt roads in wide-open spaces with only the stars for entertainment. The variety is the allure, the people the elixir.
"We spent 365 nights on the road during our Year on the Edges of America. Six of them were at HH wineries and two at HH farms. We would have visited more, but for our need to hug the border/coastline to be consistent with our "perimeter theme" and the priority we gave to visiting friends, family and state and national parks along the way. We've been home less than a month and we've already visited two more HH properties on a short trek to North Carolina for a family memorial service (a winery in Georgia, a farm in Tennessee). And we've included several more HH on the itinerary for our three-week jaunt into the heartland for a journalism reunion in April, including a stay at our first HH historic site on the way home from the Kentucky Derby."
Camping at Harvest Hosts locations seems like the perfect way to conduct an extended road trip. String a collection of Harvest Hosts through the interesting country on the way to your destination. Sample and buy local products and see some new sites along the way.
You can follow Keven and Georges travels at postcardsfromtheperimeter.com.