Pronghorn Xing: Making prairie highways safer for wildlife and RVers
Download the Pronghorn Xing app today and be a citizen scientist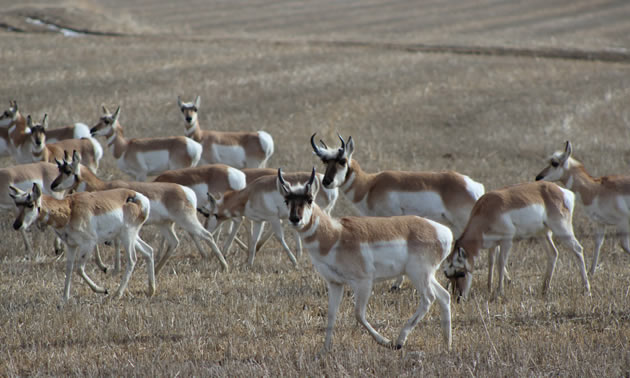 "Mom, Dad, what are those funny looking animals on the side of the road? They look like they want to get across."
How many times have you heard the kids ask this question as you travel across the prairies? Do you know what they are and why they are so close to the highway?
Watching for animals and learning about them has always been one of our favourite things to do as we travel across Canada. Now there is a fun new way to learn about a few commonly seen ones plus help make the highways we travel safer.
Last fall, I was introduced to a program studying pronghorn and the issues they have safely crossing the many highways in southwestern Saskatchewan and southeastern Alberta. The cool thing about the program is that anyone can help—in fact, you are encouraged to participate.
Migrating pronghorns
Here in Alberta and Saskatchewan, pronghorn are at the northernmost point in their range. They make seasonal long-distance migrations along traditional routes each year, many of them travelling several hundred kilometers even. These migrations take them to and from their winter and summer ranges.
As they migrate, they are faced with many barriers. One of the most dangerous barriers to their travel is crossing highways, which are increasingly fragmenting wildlife habitat. When they reach a highway, they tend to bunch up and start to race back and forth in the ditch before suddenly darting across the road. Sometimes these herds can number in the hundreds but more often, they are in smaller, difficult to see herds.
If they are hit by your vehicle, the results are usually deadly to them, and often the vehicle that hits them sustains damage too. Can you imagine trying to stop a heavily loaded pick-up truck pulling your RV in time to miss them?
Pronghorn Xing app
Enter the Miistakis Institute, which is based out of Mount Royal University in Calgary. In partnership with several government and non-government organizations, they have undertaken a study, called Pronghorn Xing, to determine what needs to be done to ensure wildlife safety near the highway.
The study's main premise is to identify areas along highways called pinch points. These pinch points are where wildlife tend to cross the road frequently. Once they gather the required data, one of the ideas being considered is the building of wildlife overpasses similar to those seen in our national parks.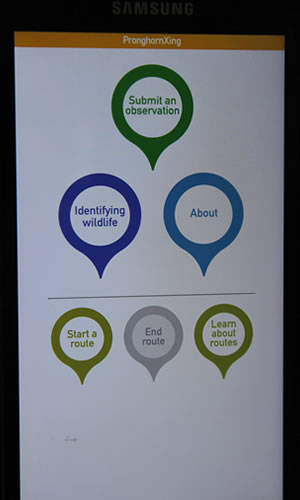 The study area covers the region from east of Swift Current in Saskatchewan west to Bassano Alberta and north from the U.S. border to Beechy, Saskatchewan, which forms a rectangular shape.
To gather the data needed, the Miistakis Institute has created an app that you download to your smart phone and then register as a participant. While travelling within the study region, tap the Start Route icon on the screen. Then, if you spot any pronghorn in proximity to the road—even one animal is worth reporting—your passenger should tap the Submit Observation icon and follow the prompts.
Even dead pronghorn are of interest to the researchers. As well, there is a section where you can learn to identify the various ungulates you might encounter along the way, which makes a great opportunity to teach your children.
Solo travellers can also participate without worries about distracted driving. There is an online mapping tool which can be downloaded to your laptop or tablet. While travelling, simply make note of what, where and when you saw wildlife then, when you stop, you simply enter the data and submit it.
Project co-ordinator Megan Jensen said since the program kicked off, 35 regular users have reported seeing 13 different species including raptors in 260 reports. I have participated since October 2017 and find it to be an easy way to assist the researchers. I encourage everyone who is interested in wildlife to become a participant.
The program is currently funded for three years but, according to Jensen, if funding is extended so will the program. Upon completion, the information gathered will be shared with the Alberta and Saskatchewan governments so they can focus on the safety of both wildlife and the travelling public.