Eh, Canada! Top 3 things to know before crossing the US-Canada border in your RV
A road trip to Canada with your home in tow is an unforgettable and fantastic adventure
by Emily Andrews —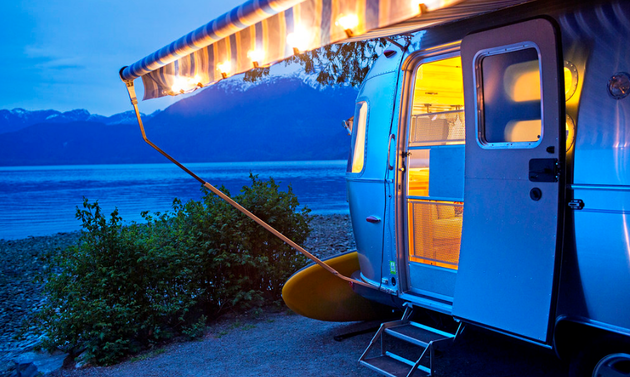 Longing for some RV time up in the great north?
A road trip to Canada with your home in tow is an unforgettable and fantastic adventure. Our northern neighbor is one of the most majestic and naturally beautiful countries in the world. Driving to Canada in your RV is a painless process if you come prepared.
Here are three things you know before heading to the US Canada Border Crossing.
1. Before crossing the border
Although Canada is our next-door neighbor, it is an entirely different country. Before inching the nose of your RV on Canadian soil, you MUST have:
Proof of citizenship for all passengers in the RV. Accepted documents include: Passport, birth certificate, naturalization certificate, U.S. Permanent Resident Card, Certificate of Indian Status with a photo ID.
Proof of registration and insurance. The Canada Border Services (CBSA) will ask you for documents on all vehicles you're bringing into the country. Memorizing or writing down your license plate numbers will help keep the conversations with CBSA officers short.
Your reason for visiting Canada. Do not attempt to lie or sound sarcastic, nervous or defensive. You're not planning anything terrible anyway, so there's nothing to be worried about! Respectfully state precisely where you're going, your planned itinerary, and how long you'll be staying in the country.
2. Items you're allowed to bring.
Goods in Canada are a little bit more expensive than in the U.S., so you have to make sure you have these things to avoid buying or renting anything on the road.
The list of items includes:
Clothes.
Camping gear.
Tools.
Sports equipment.
Electronic devices - computers, smartphones, cameras, GPS.
Transportation.
Your pets. Pets are always welcome in Canada, but you'll have to present a current rabies certificate for every animal you bring with you. Your pets need to eat, so make sure that all pet food and treats are in their original, unopened containers. Pet food can't weigh more than 44 lbs.
Booze. You can bring 24 cans or bottles of beer, one standard bottle of liquor and two 750 ml bottles of wine.
Money. You can't have more than $10,000 in your possession when entering or leaving Canada. If you're loaded, you must report the fact to the CBSA and have a pretty good reason why.
Prescription medication. Bringing your medicine is fine, but these need to be in their original packaging.
Tobacco. You should kick the habit, but if you insist: 200 tobacco sticks, 200 cigarettes, 50 cigars, and 7 ounces of manufactured tobacco.
3. Items you're not allowed to bring.
Weapons, ammunition, and firearms. Canada has a zero-tolerance policy on guns. You absolutely MUST declare all your weapons and firearms at the port of entry when entering the country.
Plants, animals, food, and dairy products. Food, plants, and animals can all carry diseases, and you need to declare these to the CBSA before entering the country. When in doubt, go to the CBSA website. Or, you could buy groceries in Canada.
Fireworks and explosives. You need to secure written authorization and have the necessary permits to bring these items into Canada.
RVing to Canada opens up a plethora of RV parks and campgrounds: from first-class, resort-style RV parks to retro and rustic campsites. Remember to follow the rules and always stay safe!
Author:
Emily Andrews is the marketing communications specialist at RecordsFinder, an online public records search company. Communications specialist by day and community volunteer at night, she believes in compassion and defending the defenseless.