Summers at Lakeshore
The Mazurenko family from Calgary is creating a summer tradition of camping at Lake Windermere.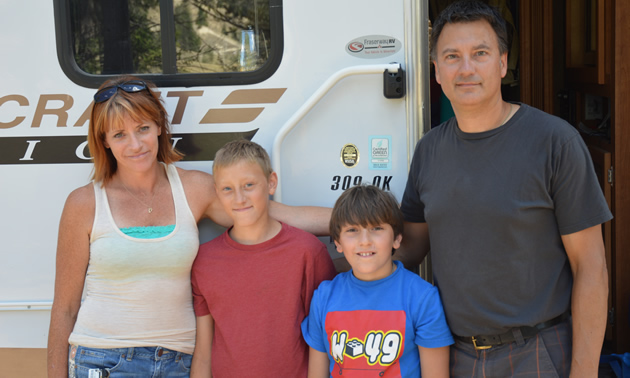 The Mazurenko family was just settling into their campsite when we met them at Lakeshore Resort and Campground at Lake Windermere, located in southeastern B.C.'s Columbia Valley. Kelly chatted with me while Garrett leveled their 35-foot Starcraft Lexion travel trailer.
Have you been to this campground before?
We have, and we love it. We're hoping to get a permanent spot so we can keep our RV here full time.
What's the attraction?
There's so much to do here, for us as a family and for the boys to do independently. We love to go to Redstreak (Campground, near Radium Hot Springs, B.C.) to go mountain biking. We can go down to the lake and have a beach day, or head to the hot springs. We love to have a campfire at night, and we all love stargazing—we can do it right here at our campsite. We don't get to see stars like this in the city. There are lots of other kids here, too, and they play football and go off on their bikes. There's been a black bear roaming around, which is interesting, and we see lots of eagles and ospreys. The other campers are really friendly, and the campground hosts are great—they do patrols all the time and we feel like we're well taken care of.
Tell me a bit about your RV.
It's a step up from the 25-foot, 1980 unit we had when we started RVing when the boys were babies. We've had this trailer for three years. We like the interior configuration because of its big kitchen and a big area at the back for the boys' stuff.