Simplicity is bliss for Jim and Marianne Ziegler
Summer in B.C. and winter in California
by Britt Bates —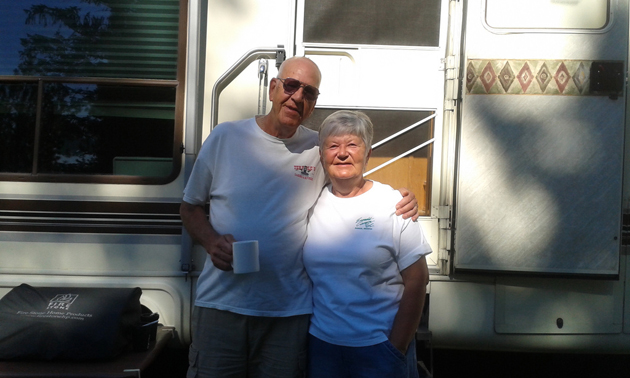 After spending more than 20 summers taking holidays across Canada in their truck and camper, Jim and Marianne Ziegler made a life-changing decision nine years ago: to sell their house and most of their possessions, trade in their camper for a large fifth wheel, and live full-time in their RV for 12 months a year.
When I sat down to talk to Jim and Marianne, they were sitting in the sunshine in their spacious, private site at the Kimberley Riverside Campground, just minutes outside of beautiful Kimberley, B.C. Their thriving tomato plants perched on the table beside them, the scent of pine forest was rich in the air, and we were able to look out at a stunning view of the Purcell Mountains: a wonderful and relaxing life they've created for themselves.
"We love it here," said Jim. "It's quiet, you can hear the river. It's really peaceful."
Kimberley is their favourite RV destination in British Columbia and they return for a six-month seasonal stay each summer.
"This place is beautiful and so relaxing," said Marianne, who was raised in Kimberley, a town of 5,000 nestled in the mountains of British Columbia's Kootenay region.
Snowbirding
When the Kootenay temperatures begin to drop, the couple packs up their fifth wheel and heads south each October, where they spend the remaining six months of the year at Emerald Cove RV Resort in Earp, California. This popular park, run by a company called Colorado River Adventures, sits right on the border of Arizona, so the Zieglers need to drive only six miles to the town of Parker, Arizona, for their household needs. They are equally comfortable in that other home, but for different reasons.
"We've made a lot of friends there, who return every year as well," said Jim. "It's little community. We have potluck dinners. There's always some tears when we leave at the end of the season."
With over 800 sites that aren't quite as private, the park may lack some of the stunning, forested beauty that British Columbia offers, but Jim and Marianne have discovered an equally satisfying lifestyle for their winter months. They enjoy a thriving winter of friendship and community, and then a slower-paced summer of privacy and solitude in nature.
The rig
With so many miles put on their RV each year, the Zieglers knew they needed something durable and reliable. They invested in a 40-foot Teton fifth wheel.
"We are the second owners," said Jim. "It's starting to show its age a bit, but it's been on the road for 20 years. But it's nice, it's comfortable."
When I asked the Zieglers why they've become addicted to the full-time RV lifestyle, they weren't hesitant with their answer: the simplicity and easygoing days that it offers.
"We had a big house and so much stuff," said Marianne. "So we got rid of 75 per cent of what we owned and sold the house. We are much happier living in a smaller space. We can clean it in half an hour, then we are out the door going golfing. Before we had the house, the yard, the garden. We felt about ten years younger when we just got rid of it."
The lack of stress in their lives shows in the couple's faces, as they relax in the morning sun. Happy and calm, they have a carefree summer and many more seasons of adventure ahead of them.