The freedom of having a home on wheels
Ruth and Alan Hargrave love to get out in their motorhome and explore Manitoba as well as places down south
by Karen Kornelsen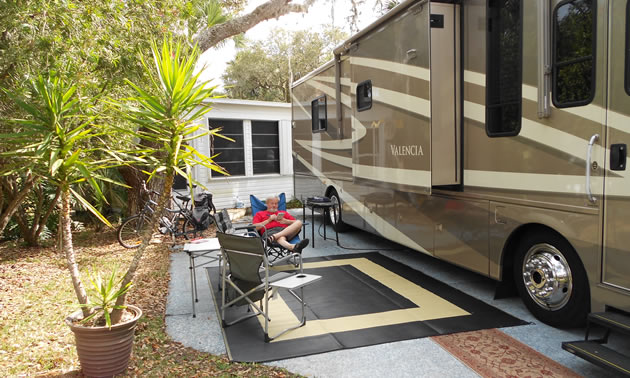 Ruth and Alan Hargrave love to get out and camp. Ruth grew up in Rosenort, Manitoba, and because of her love of nature, was already an avid camper when she met Alan. A retired teacher/guidance counsellor, Ruth still runs a small business teaching teachers while her husband, who was born in England, is a retired accountant/business manager. Now in their second marriage of 30 years, both have children from a previous marriage and love spending time with their four grandchildren.
The couple said RVing is something that brings their family together and allows them to explore places in Manitoba as well as the United States.
Tell me about your RV/trailer: what unit do you currently have and what do you like about it?
We presently own a 2007 36-foot Valencia Mandalay with three push-outs—two for the living/dining area and one for the bedroom. We upgraded from a 35-foot '94 Vectra Winnebago, which we traded in this past February while wintering in Florida. Prior to our motorhomes, we used to go camping in a pop-up trailer—and before that, we tented. So, as you can imagine, the motorhome with the slide-outs feels like luxury to us.
We like to go south for the winter, and the comfort of having our home on wheels, being able to travel where we wish and not having to pack up our suitcases are some of the reasons we love our RV. Another benefit is that we can cook for ourselves, which is so much less costly and more nutritious and delicious than eating restaurant food when travelling. We have four grandchildren whom we like to have with us for sleepovers, so the push-outs make us all more comfortable with the extra space. And the queen-sized air mattress in the couch is very handy for friends and relatives who wish to join us wherever we travel in winter or summer.
How much of the year do you spend RVing?
We have only had our motorhome for three years, and during that time, we've typically travelled with it during the three months of January, February and March, and try to go camping on weekends during the months of May to the middle of September with friends and relatives.
What do you love most about the RV lifestyle?
(We like) the freedom and comfort of having a home on wheels and being with family and friends in comfort without having to stay at their homes, but still bonding.
Where are your favourite places to travel in Manitoba?
We have camped in Falcon Lake and at Winnipeg Beach. We like Falcon Lake because it is close to family and friends and there are good bike paths. We really like the new campground at Winnipeg Beach because of the beauty and the clean and modern facilities as well as good biking.
What has been your most memorable experience in Manitoba as an RVer?
We had a very memorable weekend in September last year with our granddaughter at Winnipeg Beach campground. Not only was the weather amazing but they had a vintage car show on in the town and our neighbour came out to spend one night with our friend who also owns a motorhome. Our granddaughter loves biking and old cars, so she was in heaven.