Fifty years of camping
Jim and Shirley Pedersen of Claresholm, Alberta, have been RVing since July of 1962.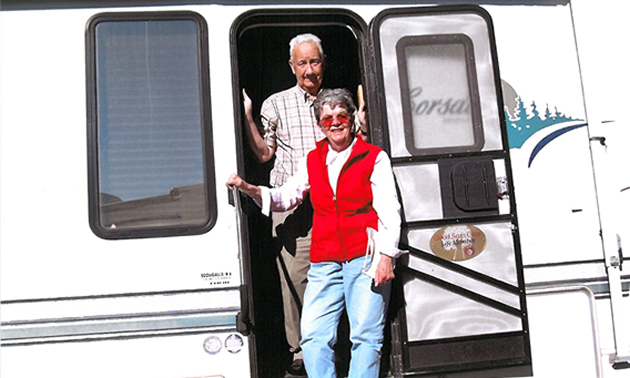 What RV model do you currently own?
We purchased a 1998 26-foot Corsair fifth wheel on October 5, 2000, with a 12-foot slide out for the kitchen table and chairs and a hide-a-bed.
What year did you begin your RV adventures?
It all began in July, 1962, when we travelled to Portland, Oregon. We set up a tent in an RV park but due to the noise from an event being held, our two children were kept awake all night. To top things off, it poured rain, making it impossible to sleep in a tent under a tree. The ground was surrounded by high, thick roots which led Shirley to say, No more tenting. In winter 1962 and early spring 1963, Jim, being a carpenter, built our first 16-foot trailer.
How do you plan your RV adventures?
Sometimes just sitting around with other RVers and listening to them talk about where they have gone and where they would like to go gives us ideas. Attending RVwest mini rallies enable us to hear about new places to travel to. Getting together with good friends and having discussions on where they would like to travel to piques our interests in making new travel plans.
What book are you reading now?
Jim states his favourite novel right now is Raising Kane by Keith G. Powell.
Shirley is far more interested in a magazine called Reminisce, known for bringing back good times and old memories beginning in the 1940s.
What was one of the most important lessons you have learned in life?
We have both learned to be flexible and go with the flow. Learning to deal with circumstances as they come has been a very important way of RVing for both of us.
Is there any advice you'd like to offer anyone considering RVing?
Travel while you can, as long as you still have good health.
Is there one destination you have not traveled to yet that you would like to experience? Why?
Manitoba, Canada, simply because we would both like to explore that province. We have been all across Canada except for Manitoba and one of our friends emphasized how much we needed to see this part of the prairies so we can complete our Canadian RV tour.
Can you explain why Arizona is your favourite state?
Arizona has lots of different places to see and good weather most of the time. The parks have a clubhouse to play games, jam sessions, potluck suppers, dancing, shuffleboard tournaments and more. We have been traveling to Yuma, Arizona, for ten years now. In 2010 we attended the Oasis car show in Yuma, Arizona, which displays over 1,000 vintage cars.
What's your motto?
When we both get up in the early morning and the sun is beaming brightly, Jim always says "We should be camping!"