Meet Don and Carol McDowall of North Vancouver
Don and Carol McDowall enjoy an active RV lifestyle—without actually travelling in their RV.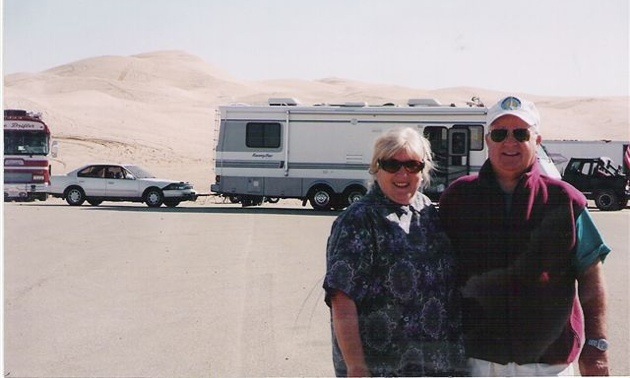 "RV Life is in our hearts," said Carol McDowalll, who with her husband Don has been RVing for over 22 years. "We used to travel every winter until two years ago. We went to all the regular destinations "Florida, Yuma, Baja California—and most winters we spent in Palm Desert. We are members of Thousand Trails, which is great."
Carol answers some questions about RVing.
Please tell us what you enjoy about the RV lifestyle.
There is no comparison between any other lifestyle. RVing is good for a marriage relationship. You would think you would get tired of each other in such a small space, but it's the opposite. When you're far away from home and away from anyone you know, believe me you get along really well. It sounds strange, but I think it is good for a relationship.
How did you spend your time in the campgrounds?
We had so much fun and have learned to do so many things. We visited some campgrounds and people were putting on shows and we thought what a fabulous idea it was. On the way home we stopped at a few thrift stores and bought all kinds of costumes, and then in the summer we put on talent shows in the campgrounds. You don't even have to have talent yourself. You would be surprised how many people know how to do things like singing, dancing, acrobatics and all kinds of things. We had so much fun organizing them for many years.
I'm a clogger, so when we travelled south in the winter I would bring along all these clogging shoes in the motorhome and when I got to a campsite I would teach clogging. We always kept busy doing things.
What happened two years ago that affected your travels?
My husband had to have knee surgery and could no longer drive the motorhome, so we keep the motorhome in a campground at Cultus Lake all summer. I teach hula dancing and volunteer there and it`s close to home, so our kids can visit us easily. As we have gotten older our RV life has changed.
How do you spend your winters now?
We have started flying down to Palm Desert for the winters and renting a trailer in the same park where all of our friends are staying. I think that's what we'll continue to do, except we used to go for four months but have started dwindling the time down to two months.
How important are your RV friends to both of you?
We have had a wonderful RV life and the RVers are still our friends, whether we continue to RV or not. In fact, we are meeting part of the group for lunch tomorrow before some head down to Yuma or Palm Desert. We were in Hawaii in November and even met some of them there. They are like family to us.