Loving life on the road, wherever it may take them
Marsha Golem loves the freedom of the RV lifestyle, while husband Butch loves that he can combine RVing with his summer work
by Gail Kesslar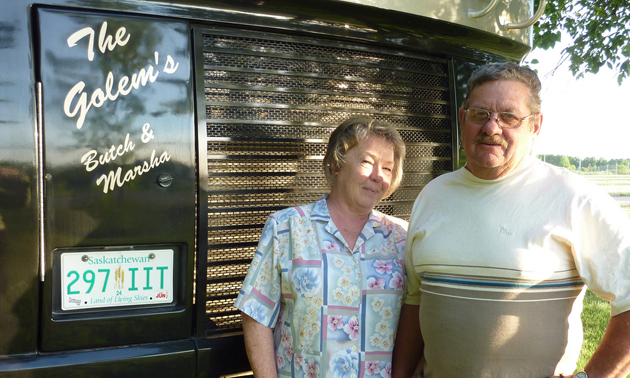 Marsha and Butch Golem have bought a total of five RV rigs over their lifetime, each bigger than the last. They currently drive a 36-foot rear diesel Simba by Safari and spend three or four months of the year on the road. While Marsha has recently left the healthcare field after a 40-year career, Butch works throughout the summer months helping to ensure that Saskatchewan's roads are paved and smooth.
As a result, their time spent RVing strictly for pleasure is limited, at least until next year—when their plan is to work even less and RV even more. First up, they say, will be a drive up the B.C. coast and into the North. The following year they plan a cross-country trip that will see them all the way into the Maritimes.
And while most folks in their position would be spending their winter downtime in a sunny snowbird locale, these two prefer the comfort of the snow, the sport of snowmobiling and their little cabin in the small Saskatchewan town of Simmie, bordering the Swift Current Creek that widens into Reid Lake, a reservoir created by the nearby Duncairn Dam.
When they do hit the road, and work doesn't beckon, their plan is simply not to have a plan. They just drive until they find a spot they might like. And in their home province of Saskatchewan, they say, there's plenty to choose from.
"We never go out with much of a plan, unless we're heading out to visit our children or following Butch's work crew," said Marsha. "But other than that, we just gas up, fill it with groceries and off we go to wherever the road takes us—turning where we feel like turning and stopping where we feel like stopping."
Favourite stops in Saskatchewan
With so many nice places in Saskatchewan to stop, Marsha said she doesn't have one single favourite, though the little artistic town of Eastend does hold a special place in her heart.
"Eastend has a really nice little park in town that's nestled into the curve of the Frenchman River," said Marsha. "They've also got a nice little play park there and there's lots of things to do for children. There's a shallow spot in the river where you can go out wading and there's crayfish to be caught. There's so many trees and so much greenery. It's not the typical Saskatchewan people think of. It is just a really pretty little gem."
The other draw for Marsha to Eastend is the state-of-the-art T. rex Discovery Centre that was built to house one of southwest Saskatchewan's most famous attractions: Scotty the T-rex. Discovered by chance in the nearby Frenchman River Valley in 1991, Scotty is the most complete Tyrannosaurus rex fossil find in all of Canada, and he happily shares his home with a number of other local dinosaur finds.
"I've been there about seven or eight times, and every time I find something new that I've never noticed before," said Marsha. "And the staff there is really good. Always ready and willing to answer any questions you may have. They're just excellent people in there."
Another favourite scenic spot near Eastend that the Golems enjoy is Pine Cree Regional Park. While its tight spaces make it a site that is impossible for them to get into (most units larger than 23 feet are unable to fit), they still enjoy parking elsewhere and going in just to have a fire and a wiener roast.
As for other favourite spots, Marsha said there are just too many to mention any specifically. But the ones they seem to veer to the most are those that are located right within some of the many small towns that dot a Saskatchewan map.
"It's really surprising, the campgrounds you'll find in really small Saskatchewan towns," said Marsha. "They are so good at looking after them. The grass is always cut, there's always water available, the bathrooms are clean all the time and the people are always so nice and so helpful. They'll give you directions, tell you the best place to go wading in the creek, and they'll even give you a ride to whatever attraction you want to visit. If they've got the time to talk, they'll stop and share all the area's best places with you. Things you might not find in any tour book or on a map."
What Marsha likes best
For Marsha the best part of following a summer-long RV lifestyle is the ability to live without restrictions.
"The comfort, being able to relax and breathe and not having to be on a schedule all the time. That's really important to me," said Marsha. "I've worked in healthcare for 40-odd years, and everything is so scheduled and so precise. Things are done in exactly the same manner at exactly the same time. Yet when I'm RVing, it doesn't matter if I get up at 5:30 a.m. or at 7 a.m. and I can have cake for breakfast if I so choose! It's just a very nice, relaxed way to live."
Inside the motorhome, Marsha likes the sheer comfort and space it offers, as well as the chance to sit up high and survey the road.
"I have always driven very small vehicles," said Marsha. "I am short in stature to begin with, and to be able to look around and actually see what's going on is really, really nice—and I don't have to sit on cushions or anything!"
Of course not everything contained in the unit is to her liking. One of her least favourite features is the combination microwave convection oven. But she admits that's simply because she hasn't yet learned how to use it.
"I'm told that once you get the hang of it, it's very easy, but I'm scared I'm going to blow the whole place up," said Marsha. "But my husband is a good eater, and bless his heart he eats anything that I put in front of him. So I'm afraid my first few attempts at the convection oven will be like our first few months of marriage all over again, where the food is barely recognizable."
Advice for newbies
For those who haven't yet taken the plunge into the RV lifestyle, Marsha has some sage advice:
"Start small. Rent if you can. Don't just off the bat get the biggest, most expensive thing with all the toys. And if you do get a big unit, remember that your driver also has to take courses if your unit is large and has air brakes. So you'll really just want to try it out and make sure you like it before making any big time or money investments.
"Just try it out for three weeks. You don't have to stay in the same place all of the time, but give yourself three weeks to find out whether or not you like it. Whether you like the driving or the pulling, or whatever type you've got, and whether your spouse or companion likes it. Because it's really difficult if one of you really likes it and the other one just wants to go home. It could make for really tense moments."
Her other piece of good advice?
"Always keep your rig's manual close at hand, because you never know when you're going to need it. If you're lucky enough to have a partner who's handy like Butch is, being able to pull out the manual and discover for yourself what might be wrong can save you the cost of bringing in a repairman if something does go wrong."