Loving the lifestyle as RV park owners
Not work, but freedom
by Kimberly Schoenberger —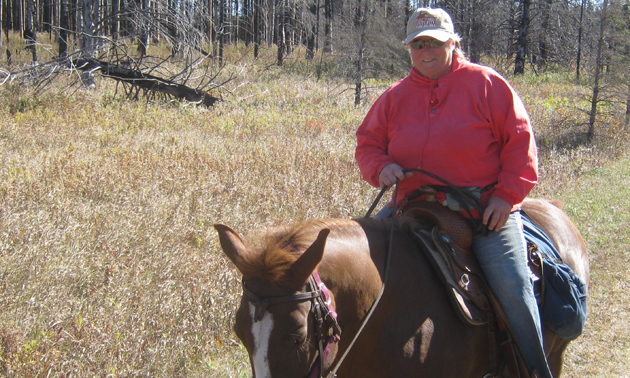 Sue Upton and husband Ray Ryynanen are the owners and operators of Sandhill Pines RV Park in Winnipeg, Manitoba. The two moved there in 1999 and have been embracing the friendliness of the people and the great horsebacking trails in the area for the past 14 years.
Finding joy in the job
Whether it's out on the campground or doing maintenance by the pool, Upton and Ryynanen are always working hard to serve their visitors. But they don't see it as work.
"I remember someone was saying, 'I see you working all the time, don't you get tired?'," said Upton. "But the work that we do isn't really work. There's so much freedom in terms of deciding what you're doing that day. And honestly, vacuuming the pool on a sunny day isn't work. It doesn't feel like work to me, anyway."
Upton said that vacuuming the pool is actually one of her favourite parts of the job, along with cutting the grass.
"There's something that's just meditative about those two things," she said.
Not only is she satisfied with the maintenance part of her job, but Upton also enjoys spending time with her horses.
"The very first thing I do in the morning is go and let the horses out of the barn," she said. "We have 8000 acres of Crown land around here, so it's great for horseback riding. I'm with my horses or doing something with them at least four or five days out of the week."
Changing seasons
At the beginning of each new season, Upton and Ryynanen work together to make sure that the park will be ready for visitors.
"My husband is the mechanic and maintenance man, so he gets the water lines and mechanical equipment," said Upton. "I do the events and advertising as well as cleaning and prepping the clubhouse. We both prepare around the campground doing just yard maintenance and whatever else is required before we open up."
Their work on startup begins just prior to the first long weekend of the summer, before they officially open for business and seasonal RVers begin to show up. They operate through the summer and into the beginning of autumn, but then close up mid-October. In the off season, Upton and Ryynanen take their business down south to Mexico, where they own a triplex and rent out the suites. Ryynanen also works in construction.
This element of having a seasonal business was a huge part of the appeal for the couple when they decided to open up their RV park.
"People come and stay year to year," said Upton, "and the only overnight campers we have are friends and family of our seasonal campers."
A social centre
Sandhill Pines' seasonal-only policy, catering to 45-plus mature individuals is one of the things that Upton believes makes for a unique and well-operated campground.
"I think we really do a screening process for our campers so that we have individuals who will be a cohesive group," she said. "We do interviewing and look for people who are kind of calm and quiet, and it makes for a really great camper community."
Their specific selection of campers has proven to be effective. Upton noted that everyone seems to get along really well.
"There's a lot of socializing that goes on," she said—though revealing that it isn't always just herself who is partaking.
"My husband is all about the socializing," she noted. "He's a real social butterfly."
Upton made sure to note that this aspect is one of the most important parts of RVing at their campground.
"Just get involved with everyone and make an effort to meet people," she said. "Certainly the campers themselves are what make the experience. Those are what are going to create the memories—the people you meet and the conversations you have. Just involve yourself in the activities and get out and have fun."