Ingenious modifications to an RV can turn it from a house to a home
Since the 1960s, Winston Foster has creatively suited his RVs to his family's needs and lifestyle.
by Karen Kornelsen —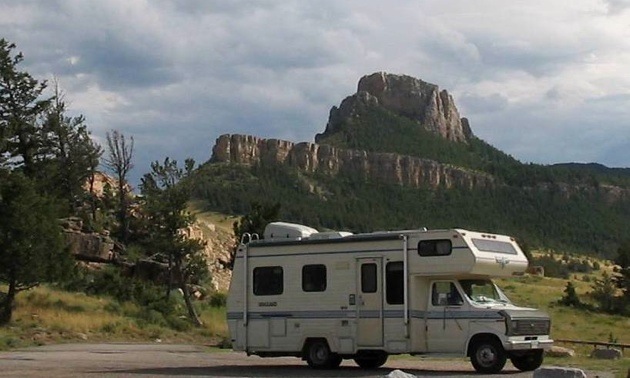 Winston Foster's RV travels started in the late 1960. He and his wife have journeyed from their home in Regina to the Queen Charlotte Islands, Alaska, California, Key West, Newfoundland and beyond. Throughout the years, he has travelled in a variety of vehicles including two tent trailers, two-wheeled cabin trailers, two four-wheel trailers and a pair of Class C motorhomes. A common theme in all these vehicles is the ingenious modifications Foster has come up with to make RV living more efficient, comfortable and unique.
"I have discovered the secret of RVs," said Foster. "Most are only used a short time each year, so motorhomes, trailers, boat motors and even snowmobiles that are well-maintained age very slowly. So our 1989 vehicle is older than many campers."
Foster's 24-foot 1989 Ford Vanguard Class C motorhome has a few special features. One of the features he's most proud of is his dual fuel system.
"I installed two tanks of propane and a switch, so I have the choice of using either propane or gasoline," said Foster. "My motorhome has quite a big engine, and with just a flick of my finger I can be driving on propane. I can go about 460 miles if I have to without fuelling up. That's a good thing when you're travelling on the Dempster Highway. I remember at one point it being something like 250 kilometres between filling stations."
The Dempster Highway—Canada's only all-weather road across the Arctic Circle—was officially opened in 1979 at Flat Creek, Yukon. It ran 671 kilometres from the Klondike Highway near Dawson City to Fort McPherson and Arctic Red River (now Tsiigehtchic) in the Northwest Territories.
Customizing the camper
Another modification Foster is certainly proud of is his drop-down tailgate on a rear-mounted box he can use for barbecuing. He built a box so the lid swings down and a couple of chains hold it flat. The barbecue sits inside and when he's ready to cook, he just lowers the flap and pulls out the barbecue.
Another useful modification is using the space behind the drawers in the kitchen.
"The drawer goes back about three quarters of the way and you can lower things down behind it," said Foster."Like I have a knife rack built behind it for kitchen knives. It fits in there nicely. I fix things all the time—just try it and if it works, great! I always have the necessary hand tools in our vehicle."
Even when Foster doesn't have the right tool, he'll somehow make it work.
"I had to solder a wire once, so I heated up a nail on our propane stove and used that as a soldering iron," said Foster.
Some of his modifications have been designed to make daily chores easier.
"A clothesline for instance," said Foster. "With wet swimsuits, clothing, towels and a half dry wash, a wife is clamoring for one. It is usually solved by a line between two trees—until you come up short by one tree. We now have an eye hook screwed into all four corners of our RV. Now wherever a tree is located, or a friendly neighbour's trailer, we can string up a clothesline.
"For a shorter clothesline on a towable, if there is a front window cover, lift it and attach a clothesline across it. Shut it and the eight-foot line disappears.
"I have also used the eye bolts to tie things on the roof that my wife says have no business inside our house—like buffalo skulls, driftwood and seaweed."
Carry on camping
Foster's love for RVing continues to grow and he and his wife plan to continue spending June, July and August every summer on the open road.
Foster jokes that his favourite place to travel is the area between the Queen Charlotte Islands and St. John's. He would like to drive to Hudson Bay, but said there are no open roads to it on any map, with the possible exception of a Quebec logging road.
Foster and his wife have come a long way from their first trip to Long Beach on Vancouver Island in the 1960s. It was a time when hippies made their homes on the beach inside large piles of logs. Although things have changed since those days, Foster will always be tinkering and creating the RV experience that is unique to him.