Isolated but never lonely in Roy Lake State Park
Bob Pruitt works as a volunteer camp host year-round at Roy Lake State Park in South Dakota.
by Karen Kornelsen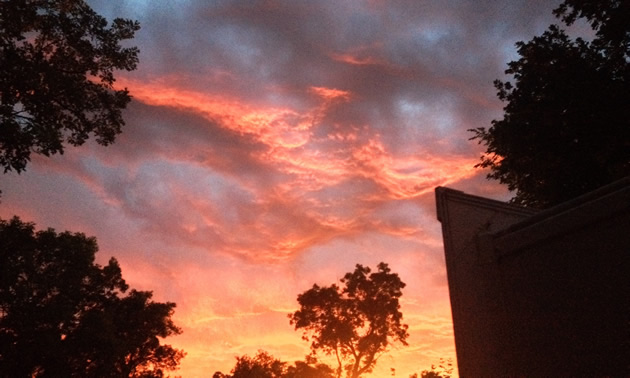 He lives alone for the most of the winter in Roy Lake State Park in South Dakota. He doesn't mind. Bob Pruitt takes full advantage of the solitude that is part of his role as volunteer camp host and maintenance guy.
Pruitt lives in his fifth wheel all year round. It's a 40-foot Jayco 36.5 Pinnacle with four slides, a fireplace, two recliners, a double door fridge, built-in vacuum cleaner and a king sized bed. As he says, it's better than any home he's had in South Dakota.
"I don't really feel isolated," said Pruitt. "There's always a lot of ice fisherm3n on the lake. I love the peace and quiet and watching the bald eagles flying around the park."
During the winter, Pruitt helps out by blowing snow, splitting wood, maintaining mowers and vehicles and other odd jobs; whatever needs to be done. His wife, a professor of education at a university in Mitchell, comes out on the weekends when weather permits. As soon as summer rolls around, she's right alongside her husband as a camp host.
"What I love about the lifestyle is if you don't like your atmosphere or your neighbours, you can move," said Pruitt. "You can see different parts of the country. You're not really tied to anything except for what you want to be tied to."
Before Pruitt started volunteering his time as a camp host, he and his wife travelled all over the United States. One summer they covered about 5,000 miles travelling to Yellowstone, Nevada, Utah, California and Arizona, stopping in a new place almost every night.
But Pruitt's favourite place by far is Zion National Park, Utah's oldest national park, known for its incredible canyons and spectacular views.
"It's beautiful in Yellowstone," said Pruitt, "but when you live in South Dakota seeing a buffalo isn't a big deal. But when you see one there, you can get caught in a three-hour traffic jam. I love Zion National Park for its peacefulness and the fact that you can be sitting in your campsite and deer walk right up to you. It's beautiful there."
When Pruitt's wife retires in a few years, the couple will hit the road once again.
"I enjoy volunteering here at Roy Lake so much I will continue to do it for a length of time," he said. "But when my wife retires, we will probably spend the winters where it's not 30 below zero and travel to warmer climates. For now though, this is what I live for."