Gone fishin'
The Johnson family ranks Alberta camping and fishing the best in North America.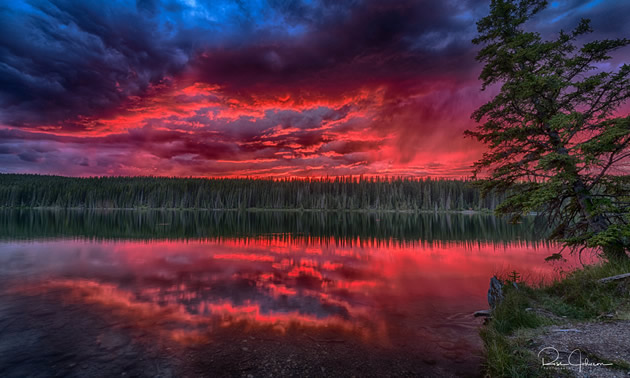 For the Johnson family—despite having camped in the desert of Arizona, on the beach along the Gulf of Mexico and throughout Canada—Alberta claims the top spot for adventure. "It's got everything!" said Ross Johnson, father, husband, fisherman, hobbyist photographer and camping enthusiast. "If we want mountains, we go west. If we want big pike or lake trout, then we go east and take the boat with us. It all depends on what you want. There's a good palate of opportunities."
Ross Johnson's career led his family of five across the continent a few times before they settled near Edmonton. A shared love for camping and fishing remained constant over the years. His adult sons still love to spend weekends with Ross, either sightseeing or an outing on the lake.
The Johnson family used to own a 34-foot travel trailer but downsized a couple years ago for flexibility. "It was just too big," said Ross. "We also have a boat. We would need two vehicles and 60 feet or more of campsite. There's just too few." Now, the Johnson family prefers their Ford F-250 and Palomino Backpack camper and escape every chance they get.
Aside from the benefit of family time while surrounded by Canada's natural beauty, Ross enjoys the opportunity to relax. He spends his time outside pursuing hobbies he's practised for years. "Camping gives you the ability to get off by yourself for a little bit and pursue the things you enjoy without spending a ton of money," he said.
Gone to the lake
Ross and his two sons, Matt and Peter, are most commonly found out on a lake looking for their next big catch. "There's decent fishing in Alberta if you look for it," Ross said. Lac La Biche, Cold Lake and Fish Lake rank among their favourites. Lac La Biche is especially good for catching large pike. Cold Lake is where the boys find trout. They love the challenge the fish in these lakes give them and love to work with sonar equipment and deep lines. "Plus, there is good camping around there," he said.
The Johnsons rank Fish Lake especially high on their list. "It's just such a beautiful spot. It's right on the edge of the Rockies. There's so much to see," Ross said. "In the evenings, the water is dappled everywhere with fish coming up." They spend days fishing and evenings watching the local osprey hunt. "It's like watching a National Geographic film," he said.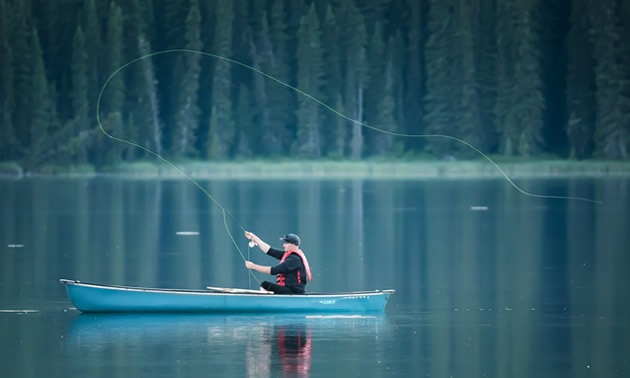 Ross' number one tip for first-time fishers purchasing equipment is this: "Spending a bit of money on quality is a good move." Plan to use your first rod for 10 or 20 years when you buy it. His own lasted 35 before it gave up. "The biggest mistake that newcomers make is that they buy inexpensive equipment because they aren't sure if they will like it or not," he said. "They end up not liking it because the equipment doesn't work very well." With good equipment, even newcomers have better chances of catching a big one in Canada.
When he isn't fishing, Ross is the family's personal photographer, capturing action shots of his sons out on the lake. "I used to do a lot of photography back when dinosaurs roamed the Earth," he joked. This time around, he's taken his own advice and bought proper equipment. Reminiscing on the days of film, Ross said, "What you can do today with a camera is magic."
The Johnsons plan to keep exploring the eastern edge of the Rocky Mountains, fishing their way through the lakes scattered across Alberta. Michelle Lake is one spot they've zeroed in on. "It's one of two lakes in Canada that has golden trout," Ross said. They hope to try their luck and throw out a line soon.