A campground that feels like home
Meet Frances and Doug Paskal, owners of Daisy May Campground and RV Park in Fort Macleod, Alberta.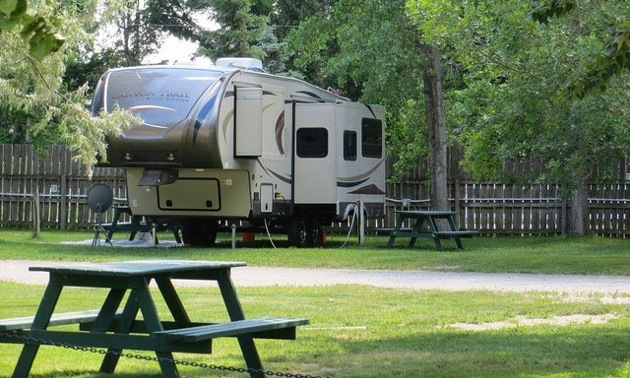 Who better to own and run an RV park than RVers? Frances and Doug Paskal had this in mind 10 years ago when they purchased Daisy May Campground & RV Park in Fort Macleod, Alberta. Drawing from their own experiences on the road, the couple made changes and upgrades to develop a prime spot for RVers and campers alike.
Francis shares more about their park.
What made you decide to buy and run an RV park?
We were looking to semi-retire, and being RVers ourselves we have done a lot of travelling and really enjoy it. It's a great lifestyle and we thought it was something we would like to do. Our kids were still in school when we bought it, so they grew up here and were involved and helped out.
What does your day look like?
Busy. I open the office in the morning and usually spend a 12 hour day there, taking reservations, helping visitors and going to meetings. But really we wear a lot of hats. Doug does all the maintenance and yard work. We are worn out by the end of the day.
What is your favourite part of your job?
Meeting so many people and visiting with them while they are here. It is so nice to hear people tell us how much they enjoyed their stay. We see people from all over the place and lots from Europe who make us part of their trip. We are also a stopping point for people heading to Alaska or Banff and a lot of families from Calgary and Lethbridge come and stay for the summer.
What do you do that makes your resort successful?
We give personal service to all our guests and maintain very clean facilities. Over the years we have built up a number of regulars who call this their second home and they come two or three times a year. I think it's because we try and go the extra mile for people to help make them enjoy their stay.
Why do people choose to come to your area?
The weather in this area is hot but mild, as we get the chinook winds. We are also a central location near to a number of places that are perfect for day trips, like Waterton Lakes National Park, Head Smashed In Buffalo Jump and the Frank Slide. The seniors like it here because of the peaceful atmosphere.
What do you do in the off season?
We go RVing and travel south to square dance, and this year we are heading back to Yuma, Arizona. In fact, we pick places that have halls and hold dances. Although my husband and I have been square dancing for 40 years, we are still learning and challenged—but it's fun.
Daisy May Campground and RV Resort is a Good Sam Park and has 110 sites that include full hook-up, power and water, full service washrooms, showers, laundry and wireless Internet hot spot.
For reservations or more information go to daisymaycampground.com