Being an RV resort host is all about the people
No two days are ever the same for Sheri Crockatt, owner of Rubber Ducky Resort & Campground in Manitoba
by Karen Kornelsen —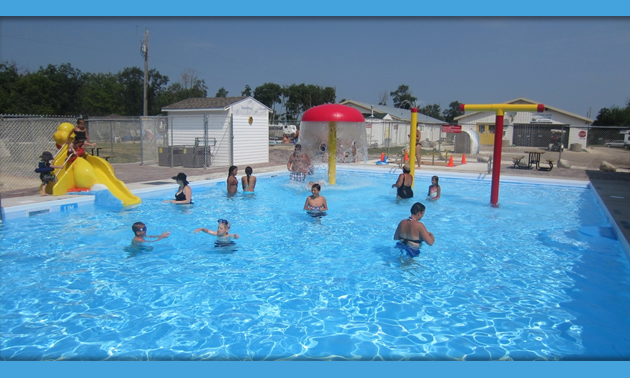 Rubber Ducky Resort & Campground is the place to be if you're looking for family fun. The resort boasts daily, weekly, monthly and seasonal camping and has two pools, two hot tubs, scheduled activities, bumper boats, minigolf, two playgrounds and—believe it or not—an outdoor movie theatre.
Its location is also ideal. Rubby Ducky is centrally located in a peaceful country setting, only five minutes from Warren, 10 minutes from Stonewall and 20 minutes from Winnipeg, Manitoba. It is just minutes away from the 18-hole South Interlake Golf Course, 20 minutes away from Oak Hammock Marsh and is situated near prime waterfowl hunting areas.
Sheri Crockatt, owner of Rubber Ducky, said she loves running the resort because no two days are ever the same.
How long has Rubber Ducky Resort & Campground been in business?
We started in 2005 and have been growing ever since.
What do you like most about being a host?
Meeting a variety of people—both the ones that pass through and also the ones that return many times throughout the year.
What made you decide to run a RV resort?
My husband and I have always enjoyed camping.
Can you walk me through a day in your life at the resort during peak season?
There really aren't two days the same. It basically starts with getting the pool and concession open in the morning and ends with closing things down at night. During the day, you just go with the flow and deal with what comes up.
What is the hardest part of your job?
The long hours.
What do you love most about your job?
The atmosphere and watching families enjoy some relaxation time.
What do you do in the off-season?
Hibernate from the cold! We are always planning and watching for new ideas.
Can you tell me some of your top tips to help visitors make the experience a good one for everyone?
Don't over-plan. Be prepared to throw the schedule away and just go with it.
What do you do that makes Rubber Ducky a successful RV park?
We offer lots of activities and options to keep the family busy.