Looking for America
Join former governor Angus King and his family on a six-month journey across the United States
by Dan Williams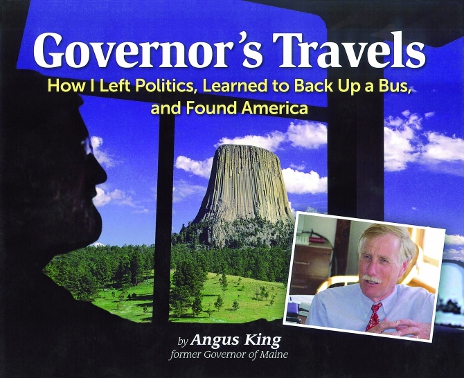 Angus King was a well-liked independent governor for the state of Maine who served two terms between 1995 and 2003. At the end of his last term, King took his family on the road to discover America in a 40-foot coach. The tales of their journey are recalled in King's book Governor's Travels; How I Left Politics, Learned to Back Up a Bus and Found America.
A lighthearted, breezy read, this book takes the reader through the family's adventures, with an accent on the novice experiences of driving a 40-foot motorhome towing a compact vehicle. The veterans of coach travel will smile at King's rookie endeavours, while those considering such a trip may benefit from his foibles.
King and his family—his wife, Mary; oldest son, Ben; and daughter, Molly—toured the United States over a six-month period. King keeps his writing humorous and shares his personal insights of people and places while attempting to connect historic locations and provide context for his children.
Highlights of the journey include exploring the expansive canyons of the southwest, hanging with the Blue Man Group in Vegas, debatable alien encounters in Roswell, relaxing in many national parks, and visiting Skywalker Ranch and conversing with the man himself, George Lucas.
Written like a family travelogue, King's telling is engaging and does drop enough pointers and tips about all the places they visited to keep the reader's interest—and it may help those planning future similar adventures.