Where's [Waldo] Reace?
Escape Trailer customers tracked the manufacturer's owner while he travelled across North America to execute warranty work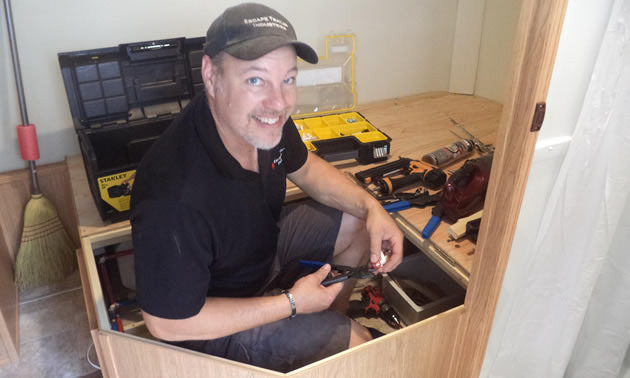 You might be familiar with Where's Waldo books. When my kids were little, they loved finding the little striped guy amongst the fine-detailed jumble on the page. Customers with Escape Trailers tracked owner Reace Harmatuik on his epic journey to correct a waterline issue covered by warranty. And customers found Reace all across the U.S. and Western Canada in their yards, making the trailer and the relationship right.
Escape Trailer Industries (ETI) manufactures fibreglass trailers in a variety of sizes, but they are all on the lighter and smaller end of the scale. One of the unique things about Escape is the units go to market without a dealer network. If you want an Escape, you have to buy it from the factory. It's the only trailer manufacturer that goes to market this way, as far as I know.
When Reace Harmatuik, co-owner of Escape Trailer Industries, discovered a problem with a waterline in some recent 21-foot Escape trailers, he corrected the problem. Then he assessed how many trailers would likely have this issue and where their owners were located. More than 40 trailers requiring work were pretty much scattered all across the U.S. and Western Canada.
"I like to put myself in the customer's shoes," Reace said. "It's (the warranty issue) not fair to our customers."
Reace and Tammy, his wife and business partner, weighed the options for repairing the waterlines and decided to fix them by putting Reace on the road to do the work.
Combination amazing race and dream trip
Reace packed up his Ford 150 with all the tools and supplies he needed to execute the trailer warranty work, hooked up his Escape fifth-wheel and crossed the border into Washington to start his epic journey. His road trip would have him visit owners from Seattle, Washington, to Tampa, Florida; Los Angeles, California, to Chicago, Illinois; and Calgary, Alberta, to Cowichan on Vancouver Island.
"It was like The Amazing Race," Reace said. "Honestly, it was a dream trip––I am glad I did it myself."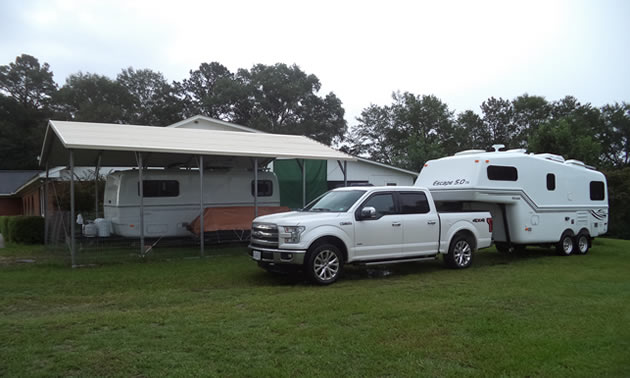 Reace wasn't very far into his journey when his customers started tracking him on the Escape forum. You can see the whole deal unfold here. Start at 06-08-2017 about page 7 to save you some trouble. http://www.escapeforum.org/forums/f9/split-water-hose-in-bathroom-10450.html
Customers wanted to see how he was making out along the trail and when the next customer could expect to see him in their neighbourhood.
"I didn't know I was being tracked," said Reace.
Amazing service, amazed onlookers
"What company is this?" onlookers asked. They wanted to know what company would send one of their techs out to solve a warranty problem—let alone the owner.
One very satisfied and impressed ETI customer from Alabama wrote this:
"Reace was very 'on task' and professional, yet laid back and cordial. He answered all my questions about the waterlines plus any others I had about the camper. He was happy to look at and address any other little items I mentioned. He mentioned that he was having fun seeing so much of the U.S. and sampling some of the regional foods and beverages, like the Buffalo Rock Southern Spice Ginger Ale (bottled in Birmingham, Alabama) we gave him while here. Said he had never seen mountains like in Colorado or rain like in Louisiana."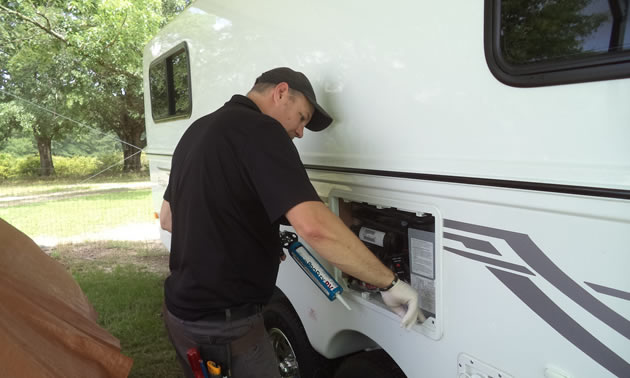 Reace continued completing repairs in backyards, front yards, University parking lots and at least one Walmart. Customers agreed to meet him along the southernmost road across the U.S. to help make the repairs efficient for everyone. You see Reace had a commitment. He and Tammy had a date to qualify for competitive cattle penning in advance of the Calgary Stampede.
Reace had to get his rig, himself and his gear over 16,000 kilometres of asphalt, resolve these warranty issues and get to the stampede on time––or he would have bigger issues to deal with than waterline replacements. The pressure was on.
"It was a 22-hour run from Chicago. I had the (GPS) address of the barn," Reace said. "I could see the barn from the road, and here comes Tammy around the corner with her truck and horse trailer."
Reace made it in time, Tammy qualified sixth of 250 teams at the Stampede, the warranty got work done, Escape Trailer owners are happy, and everyone else looks on in amazement.