CEO sees ground-breaking opportunity in North American RV market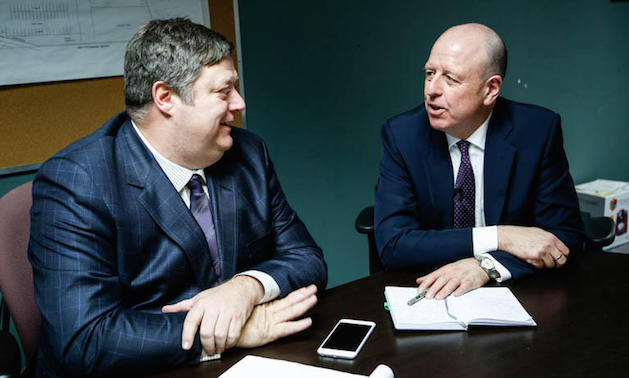 New vision, new investment, new name and new access to industry-leading RV technology—it is exciting times at Roadtrek these days.
The company is now known as the Erwin Hymer Group (EHG) North America, Inc. This is a result of the recent purchase of Roadtrek by Europe's largest manufacturer of motorhomes and caravans, the Erwin Hymer Group, from a capital investment fund called Industrial Opportunity Partners. Roadtrek's current top executive, Jim Hammill, will continue on as the new CEO of the company.
EHG sells more than 35,000 vehicles annually in the European market and Hammill sees its purchase of Roadtrek as a "gateway" purchase. This ground-breaking transaction will give EHG a gateway into the lucrative and much larger North American RV market.
"We anticipate growing this company five times over in the next four years. I would call it explosive, yet measured growth," said Hammill in an exclusive interview with RVwest magazine. "We are building our sales and marketing team right now to handle this major rollout. It is so exciting to be part of the large RV network. This is a ground-breaking opportunity for our company to expand in the North American RV market."
Now that Roadtrek is part of the Erwin Hymer Group, its product line will expand to include not only Class B motorhomes, but lightweight towables and other RV lines and products. To accommodate this expansion, EHG is currently building a third facility in the Kitchener, Ontario, area—just 10 minutes away from its existing facilities.
"Obviously, the Erwin Hymer Group has been interested in bringing their products to North America for some time," said Hammill. "Their fit and finish, European styling and focus on lightweight manufacturing will be very appealing to the semi-urban and urban RV market."
What about all the faithful and dedicated Roadtrek owners out there? Hammill said the sale of the company will be a boon for the current owners as well. Not only does Roadtrek have the highest re-sale value of any Class B in the industry, it has one of the best warranties too—six years and no mileage on everything. In fact the new Hymer Aktiv. motorhome, just released, also comes with the same warranty package.
Current owners can be reassured that it is the same team of dedicated management and employees at the Erwin Hymer Group and that the company's commitment to quality and customer service will only be enhanced by this purchase. EHG's industry-leading innovations and technological advancements will only continue as the company expands.
"We have always employed true craftsmen at Roadtrek (now EHG) and our attention to details and skills ideally mesh with the Erwin Hymer Group's commitment to high quality components, engineering, parts and manufacturing processes," Hammill said.
In a recent press release, EHG board chairman Martin Brandt spoke of the acquisition. "The strategic acquisition of Roadtrek allows Erwin Hymer Group to enter the world's largest RV market —the U.S. and Canada—as the first European manufacturer of motorhomes and caravans," he said. "With the acquisition of Roadtrek, we pursue our sustainable international strategy of growth. It is our goal to further extend our leading position in Europe and to become a global supplier of high-quality motorhomes and caravans. This acquisition is characterized by a spirit of partnership. We happily welcome Roadtrek's employees to Erwin Hymer Group."
Erwin Hymer Group North America, Inc. provides a perfect starting point from which to introduce EHG's additional brands into the North American market. For example, HymerCar, Hymer's Class B model, has already been introduced to the public and dealers at various trade shows in the U.S. and was able to impress with its well-thought-through special concept when compared with American models as well as with its high-quality European design. HymerCar is now produced at the company's Kitchener production facility. Its market launch is scheduled to take place in early summer 2016.
"We are all very much looking forward to our future plans," said Hammill. "Becoming part of Erwin Hymer Group allows us to better utilize strategic chances and to generate demonstrable value for our customers and employees, both in the short and the long term."
With a turnover of more than 1.4 billion euros, Erwin Hymer Group is Europe's largest manufacturer of motorhomes and caravans. The group sells more than 35,000 vehicles annually and employs a staff of some 4,400 in its associated companies.
With this kind of support and resources behind the recent transaction, it is little wonder that Hammill is excited about leading what used to be a single-line Class B motorhome company forward to capitalize on even greater opportunities in the North American RV market. Ground-breaking, indeed.